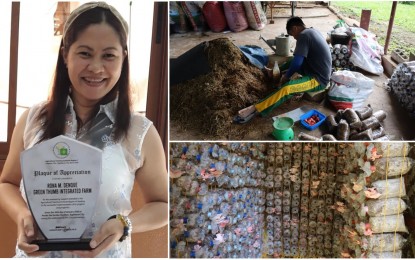 CEBU CITY – Rona Denque, the woman behind the success of the Green Thumb Farm in Corella town in the neighboring province of Bohol, is now figuratively and literally reaping the fruits of the fungi that she has been cultivating since a few years back.
She considers fungi as her lucky charm in her now successful agri-entrepreneurship venture.
Fungi often connote a negative meaning to some people, but for Denque, fungus is magical.
Her fungi, the oyster mushrooms (Pleurotus ostreatus), has become the gem of the province of Bohol and Rona's venture into this earned her the acclamation as Bohol's "queen of cultured mushroom".
Denque's love for farming developed during her childhood days. She recalled that during those times in Tagum City, Davao, where she was born, her parents believed she had a green thumb and often wanted her to take care of plants for them to grow.
As an active zumba enthusiast, she then met a co-zumba attendee who introduced her to mushroom production after being trained by the Department of Agriculture-Central Visayas' Bohol-Agricultural Promotion Center (DA-7 B-APC).
Since then, her interest in mushrooms has kept burning. She owed it to being active in zumba, which she considered a blessing in disguise.
In 2017, Denque officially started her mushroom journey with a formal training on culture and production, which she attended at the DA-7 B-APC, after her trial and error self-learning from an online video.
The actual hands-on learning she gained from the DA training has enriched her skills and knowledge in mushroom production.
One of the significant lessons that she cannot forget is the proper way of using the media or substrate like the rice stalks or straws which must be well-sterilized in maintained medium fire for several hours.
"The process is very tedious, much more when these straws are to be cooled down and filled into a fruiting bag for spawning and then placed in a dim area for them to germinate and grow," Denque said in a press release from DA-7 on Wednesday.
All these she has to do for the love of mushrooms.
And with passion, determination, and support of her husband Jares, she learned to perfect the production and culture of mushrooms.
Now, aside from the usual white mushroom, she and her husband also grow gray and pink ones. Even without an established market for their produce, this does not hinder them from continuously producing mushrooms.
"When you start on something, never quit as this will be the secret to success," she shared.
To enhance her mushroom enterprise (from production, processing, innovation, packaging, labelling, marketing to linkages), she attended various trainings and seminars offered by government agencies such as the DA, DA's Agricultural Training Institute-7 (DA ATI-7), Department of Trade and Industry and the Department of Science and Technology.
She said these trainings have contributed to achieving a 99 percent success, allowing her to do the whole value chain almost perfectly.
With this result, the Denque couple has expanded their mushroom farm as well as their markets from local to the international arena.
Aside from the mushroom production, Denque has also been promoting healthy organic foods which gained her numerous recognitions. Aside from being named Bohol's "queen of cultured mushrooms", she became president of the Bohol United Mushroom Growers Association, and was featured as a "JuanaWonder" during the Women's Month Celebration and in the "Kalamay Express" YouTube channel.
Amidst this pandemic, the Denques did not stop their passion for mushroom production. Blessings and opportunities came unexpectedly as they were able to purchase additional equipment for them to start their long dreamed Al Fresco Restaurant which they opened recently.
The said restaurant is located in Corella with a "farm to table" concept and offers mushroom-based food choices and meat-free delectable dishes.
Mushrooms are a rich source of protein, vitamins, minerals, fiber and antioxidants. It is low in calories, fat-cholesterol-gluten free and very low in sodium. (PNA)