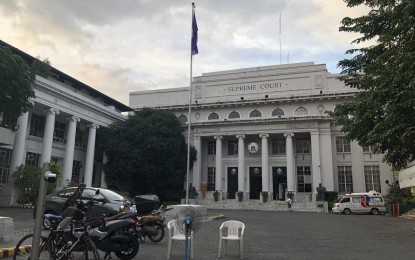 MANILA – The recent decision by the National Task Force Against Covid-19 (NTF) to include judiciary workers in the A4 priority group for vaccination and the financial assistance to Supreme Court (SC) workers affected by Covid-19 will help ensure uninterrupted services.
"It is indeed timely that the NTF granted the request of the judiciary to include its judges and personnel into the priority group A4 in the order of vaccination," SC spokesperson Brian Keith Hosaka said Wednesday.
As of April 25, 2021, the judiciary has recorded 20 deaths and 1,113 positive Covid-19 cases.
"Our judges and personnel deal with the public on a daily basis, and there is no doubt that they provide essential service, which is administering justice," Hosaka added.
A request was sent to NTF Chief Implementer Secretary Carlito Galvez Jr. on March 31, seeking to consider justices, judges and court personnel in the A4 group (frontline personnel in essential sectors) while Chief Justice Alexander Gesmundo approved financial assistance for judges and court personnel who contracted Covid-19 on Tuesday.
The SC circular dated April 27, 2021 granted financial assistance for court officials and workers who required in-patient care or hospital confinement due to Covid-19 infection since March 2020 and until the pandemic ends – PHP15,000 for mild to moderate illness; PHP30,000 for critical illness which include but not limited to acute respiratory distress syndrome, septic shock requiring ventilation, oxygenation or renal replacement therapy, and the like; and PHP50,000 for families of court workers who died due to Covid-19, whether hospitalized or not, all subject to documentary requirements. (PNA)