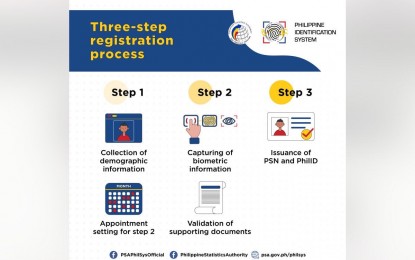 MANILA – More Filipinos can now sign up online for the Philippine Identification System (PhilSys), as the government pushes for digital registration beginning April 30.
The Philippine Statistics Authority (PSA) on Wednesday announced that the government will open the PhilSys online portal to the public.
Applicants may access the Step 1 registration process of PhilSys through the online portal, while the Step 2 registration process will be at assigned registration centers.
The online registration involves the collection of information, including full name, gender, date, and place of birth, blood type, and address.
The Step 2 process will validate supporting documents and capture biometrics.
The PhilSys Number (PSN) and Philippine Identification Card (PhilID card) will be issued in Step 3.
The registration to acquire a national ID is free for all Filipinos.
The PhilSys also promotes ease of doing business as it will help uniquely identify each registered person at a national scale with a high level of assurance, eliminate identity fraud, and strengthen the integrity of functional identification registries.
Signed into law by President Rodrigo R. Duterte in August 2018, Republic Act 11055, or the Philippine Identification System Act, aims to establish a single national ID for all Filipinos and resident aliens.
The national ID shall be a valid proof of identity that shall be a means of simplifying public and private transactions, enrolment in schools, and the opening of bank accounts.
It will also boost efficiency, especially in dealing with government services where people will only need to present the PhilID during transactions. (PNA)