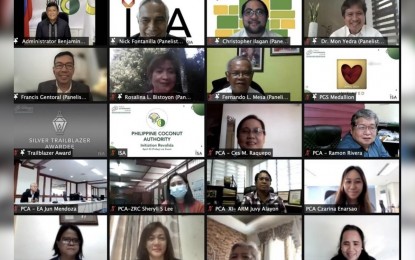 MANILA – The Department of Agriculture-Philippine Coconut Authority (DA-PCA) successfully passed the Initiation Stage of the Performance Governance System (PGS) and was conferred the Silver Trailblazer Award by the Institute for Solidarity in Asia (ISA) in a virtual public revalida on April 23.
"The conferment of this award by the ISA is a significant milestone in our continuing commitment to institutionally transform the Authority; serving as an inspiration and motivation for the DA-PCA to undergo subsequent revalida in our bid for the institutionalization of the PGS. Undoubtedly, the conferment of this award is not just a success of the DA-PCA, but also of our millions of coconut farmers and their families and the coconut industry," DA-PCA Administrator Benjamin Madrigal, Jr. said.
He said that through the PGS, the DA-PCA has been able to effectively take its course in refocusing its strategic direction, especially with respect to the implementation of the provisions of the Republic Act No. 11524 or the Coconut Farmers and Industry Trust Fund Act," Madrigal added.
The PGS is a strategic planning and management tool that translates the vision of an organization into specific, quantifiable, and time-bound strategies and commitments. It consists of four stages -- initiation, compliance, proficiency, and institutionalization.
The DA-PCA started to enroll in ISA's PGS in 2020 as soon as Madrigal assumed office in anticipation of the enormous duties and responsibilities of the Authority with the passage of the RA 11524, and the crafting of the Coconut Farmers and Industry Roadmap (COCOFIRM).
"The DA-PCA believes that crafting an industry plan would still be a futile exercise if the agency mandated to oversee such development is not capable of responding and delivering the needed services of its stakeholders. Institutional and industry transformation should go hand-in-hand so we can effectively empower our coconut farmers and achieve a globally competitive industry," he said.
The DA-PCA will cascade the strategy to all its units and personnel through the Strategic Performance Management System (SPMS), in preparation for its next revalida for the PGS compliant stage, which is targeted to be in December this year, to coincide with the conduct of its Annual Strategy Review.
"Grounded on our core values – commitment, honesty, and competence, the DA-PCA continues to fully commit to this transformation agenda, to achieve our vision to be a globally-recognized institution, championing a market-driven coconut industry – which is ultimately for our coconut farmers and their families, to enable them to directly benefit from a competitive and sustainable coconut industry," Madrigal said.
The multi-sector revalida panelists were Christopher Matthew Ilagan of Cargill Philippines, Alabat Mayor Fernando Mesa, Department of Agrarian Reform former Secretary Rosalina Bistoyong, Program Director of the DA for the National Agribusiness Program Dr. Ramon Yedra, Dr. Aniceto Fontanilla of ISA as Chairman, and Executive Director Mr. Francis Gentoral of the Iloilo Local Economic Development Forum as vice-chairman. (PR)