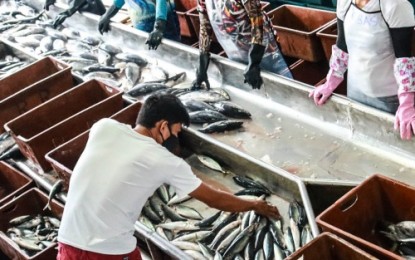 MANILA – A fish port in General Santos City has increased unloading volume after a week of decline due to Typhoon Bising.
The Philippine Fisheries Development Authority (PFDA) reported on Friday that Bureau of Fisheries and Aquatic Resources consolidated data showed that the General Santos Fish Port Complex (GSFPCS) unloaded 5,218.96 metric tons (MT) from April 22 to 28.
The GSFPCS regained its average unloading volume of 5,000 MT pre-typhoon from April 12 to 18.
Last week when the typhoon hit, it only recorded some 3,830.81 MT.
"GSFPC has braved the storm and significantly recovered from its fish unloading volume decline last week," the PFDA report stated.
Skipjack tuna (frozen) remains on top of the list of highest unloading tally at 3,880.06 MT, followed by skipjack tuna (gulyasan), yellowfin tuna (tambakol/bariles), galunggong, and yellowfin tuna (whole).
Meanwhile, the Navotas Fish Port Complex, which distributes to Metro Manila markets, managed to deliver 3,088.10 MT of fish supply to its consumers from April 22 to 28.
The production, a slight decrease from the previous week's 3,500 MT unloading volume, is adequate, according to the PFDA.
Galunggong maintained its position as the top available supply at 1,370.88 MT, followed by milkfish (bangus) at 627.72 MT, sardines at 341.08 MT, tilapia at 214.60 MT, and yellow tail fusilier (dalagang bukid) at 131.96 MT.
The PFDA said it would double its efforts to generate a sufficient volume of fish to ensure food security.
"Bising" exited the Philippine Area of Responsibility through Northern Luzon on Sunday after affecting the Bicol, Central Visayas, Eastern Visayas, Caraga, and Davao regions. (PNA)