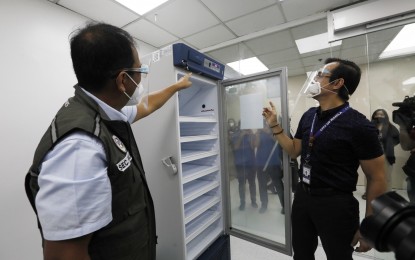 MANILA – National Task Force against Covid-19 chief implementer, Secretary Carlito Galvez Jr. has emphasized that the country's "world-class" cold storage facilities are well prepared for the influx of different coronavirus disease 2019 (Covid-19) vaccines that require various storage temperatures in the coming days and weeks.
"Alam nyo po, lahat ng in-expect po namin na cold storage natin, supply chain world standard po talaga iyan. At saka nakita natin na prepared na prepared na po tayo na either Moderna, Sputnik or Pfizer. Iyong negative 80, negative 70, negative 18, negative 30, marami po tayo na available na storage (You know, all cold storage facilities that we have are compliant with world standard. We see that we are really prepared, either it's Moderna, Sputnik or Pfizer. As for temperatures of negative 80, negative 70, negative 18, negative 30 (degrees Celsius), we have available storage)," said Galvez during a virtual press briefing on Thursday.
Aside from the storage facilities under the government's end-to-end contract with Moderna, Novovax and Pfizer, Galvez said the Department of Health (DOH) has entered into a third-party partnership with PharmaServ Express for the storage and delivery of COVID-19 vaccines from the airport to the cold-chain facility and various vaccination centers in the country.
PharmaServ Express has the capability to accept vaccines that need different storage temperature requirements, from Sinovac's positive 2 to 8 degrees to the negative 18 degrees Celsius required by Gamaleya and even the negative 25 to negative 15 degrees Celsius temperature requirement of Covid-19 vaccine manufactured Pfizer.
"Iyong ating DOH nag-kontrata sila ng third party provider na may capability na (Our DOH has tapped a third-party provider that has a capability of storing at temperatures of) negative 70, negative 80, negative 20, negative 18 at saka iyong (and) 2 to 8 (degrees Celsius)," said Galvez. "So kayang-kaya po natin iyan. Huwag kayong mabahala. Well prepared ang ating supply chain (We are able to handle that. Don't worry. Our supply chain is well prepared)."
Galvez also noted the outstanding record of the DOH's third-party partner in delivering coronavirus vaccines to various areas of the country safely and effectively.
"Nakikita po natin maganda po iyong ating nagiging record ngayon. Wala po tayong nare-report na mga spoilage. Karamihan pa nga po, mayroon pa ngang mga (We see that we are having a good record now. We have not reported any spoilage. Some even have) additional doses because some vials have also some additional doses," he said.
Earlier, the DOH said PharmaServ Express is ready for the arrival of Covid-19 vaccines manufactured by Russia's Gamaleya Research Institute and US' Pfizer after receiving almost 2 million doses of Sinovac in the past months.
Ariel Valencia, director of the DOH's Supply Chain Management Service, said all of the vaccines that will arrive in the country would be directly brought to PharmaServ Express' facility in San Roque, Marikina City.
In a recent television interview, Valencia was quoted as saying that PharmaServ Express can accommodate around 15 million COVID-19 vaccines of any type due to its state-of-the-art and most technologically advanced facility in the country.
Valencia said that even though PharmaServ's facility is smaller than its previous logistics partner, PharmaServ's world-class facility can meet the temperature requirement of various vaccines – from Sinovac's positive 2 to 8 degrees to the negative 18 degrees Celsius required by Gamaleya.
Furthermore, only PharmaServ's facility in the Philippines can meet the negative 25 to negative 15 degrees Celsius temperature requirement of COVID-19 vaccine manufactured Pfizer, making it the most efficient and most appropriate partner, he added.
In handling a Goliath–like task of addressing the pandemic, he further said the David–like but efficient Pharmaserv Express, has already identified the local government units and city health departments that will receive the Gamaleya vaccines and can finish the distribution within five days.
A reliable partner of DOH for a long time when it comes to its logistical needs, PharmaServ Express utilizes a multi-modal system of transport by combining air, sea, and land transport options to reach even the far-flung areas of the country and avoiding temperature breach.
The company is known for vast expertise and experience in handling biothermals such as vaccines and blood products that are grounded on the latest technology, operations protocols and workflows, manpower complement, and overall capabilities.
The DOH and the United Nations Childrens' Fund worked with PharmaServ in late 2019 when they needed to transport and store the vaccines needed to address a polio outbreak in Mindanao.
Furthermore, PharmaServ Express worked with private companies in the past few years as well. (PR)