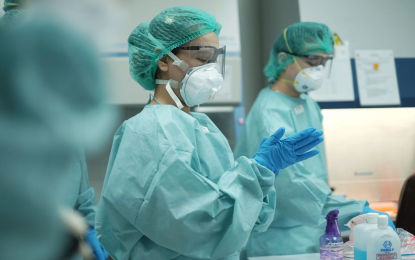 MANILA – President Rodrigo Duterte on Saturday promised Filipino workers that his administration would double its efforts to keep them "strong and thriving."
In his Labor Day message, Duterte vowed to uphold and protect the security of tenure and rights of Filipinos working in the country and overseas.
"To all Filipino workers here and abroad, let me assure you that this administration will endeavor to work as vigorously as you have in creating an environment where security of tenure, statutory labor standards, and workers' rights are not only upheld and protected but also cherished as the foundations of a strong and thriving workforce," he said.
The President made the vow as he recognized the hard work of the labor sector, especially the front-line health and essential workers, amid the coronavirus disease 2019 (Covid-19) pandemic.
He saluted Covid-19 front-liners for their resolve to fulfill their duties despite the threat posed by the virus.
"On behalf of a grateful nation, I express my deepest gratitude to our hardworking health care workers and essential front-liners for their unwavering commitment in ensuring the unhampered delivery of goods and services that continue to sustain our communities and industries during these difficult times," Duterte said.
As the country celebrates Labor Day, he called on his fellow Filipinos to "rebuild a stronger and more resilient society that we can proudly leave behind to succeeding generations of Filipinos."
"This year, we honor our Filipino workers who – fueled not just by the desire to support their families and advance their careers – have tirelessly toiled these past several months to ensure that our society will continue to function in the face of an unprecedented health crisis that crippled industries across the world," he said.
The Duterte government is set to present on Saturday afternoon its employment recovery plan to enable Filipino workers to cope with the adverse impact of Covid-19.
Duterte is also expected to sign an executive order establishing the National Employment Recovery Strategy (NERS) 2021-2022, which aims to create a policy environment that encourages the generation and improved access of employment, and improves the employability and productivity of workers.
The NERS also aims to take advantage of the opportunities in the labor market under the new normal and provide support to existing and emerging businesses. (PNA)