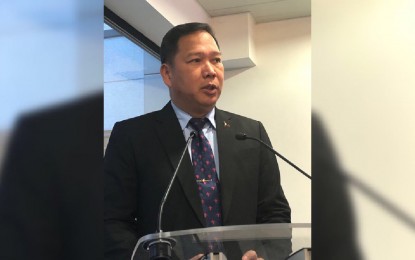 MANILA – A ranking official of the Armed Forces of the Philippines (AFP) on Monday said defunding the programs of the National Task Force to End Local Communist Armed Conflict (NTF ELCAC) will simply allow communities to be exploited again by the Communist Party of the Philippines – New People's Army (CPP-NPA).
"Do our senators really want this insurgency to go on by defunding the NTF ELCAC? Do we want more civilians killed by these NPAs? Do we not want these NPA rebels to go back to the fold of the law instead by continuing with our NTF ELCAC programs like E-CLIP and Localized Peace Engagement?" Lt. Gen. Antonio Parlade, Jr. raised the questions in a statement sent to the Philippine News Agency.
Parlade, who is the chief of the AFP Southern Luzon Command, was responding to several senators' call for the defunding of the government's anti-communist body following alleged red-tagging of community pantry organizers.
He cited the death of two civilians, wounding of 4 others, and one 1 CAFGU Active Auxillary member when an anti-personnel mine (APM) exploded on the roadside of Del Carmen Patrol Base, Barangay Del Carmen, Uson, Masbate at around 9:30 pm on Labor.
"The APM was dropped by the perpetrators who were onboard a motorcycle heading towards Barangay Paguiaman, Uson in Masbate," Parlade said,
The victims were brought to Masbate Provincial Hospital for but unfortunately, Jeffrey Boy Y. Bestingur was declared dead on arrival at 11:43 pm on the same day. A certain Carmilita L. Yanson died at around 1 am on May 2.
He said on April 28, 17 regular NPA members of NPA's Platoon Aque and Platoon SerNa, Kilusang Larangan Gerilya MAV, Sub Regional Mil Area (SRMA) 4D, six Militiang Bayan (MB), and two couriers from Barangay Monteclaro, San Jose, Occidental Mindoro voluntarily surrendered to our government troops and local government unit.
"Don't the senators want these peaceful surrenders to continue?" he added.
Sitio Mantay, Monteclaro, he said, is where the NPA's Southern Tagalog Regional Party Committee has decided to establish the seat of its revolutionary government.
Monteclaro is where the NPA Regional Special Operations Group or liquidation squad of the Southern Tagalog Regional Party Committee trained six of the 13 surrenderers, and another who was captured in 2020.
The CPP-NPA is listed as a terrorist organization by the United States, European Union, the United Kingdom, Australia, Canada, New Zealand, and the Philippines.
"But the NTF ELCAC pursued them in these remotest parts of Occidental and Oriental Mindoro boundary by bringing in the national and local government equipped with goods, electrification, and other programs," he added.
This surrender, Parlade said, is now the result of genuine engagement and sustained presence of government in these Mangyan communities. (PNA)