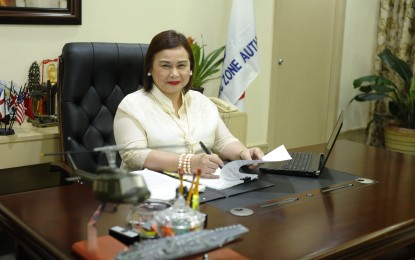 MANILA – Philippine Economic Zone Authority (PEZA) director general Charito Plaza has requested the Inter-Agency Task Force for the Management of Emerging Infectious Diseases (IATF) to include workers in economic zones, particularly business process outsourcing (BPO) and other export-oriented employees, to be part of the A4 priority group for the coronavirus disease 2019 (Covid-19) vaccination.
"PEZA-registered companies, ecozone and industry workers are considered frontline workers as they have continued working to ensure the unhampered service to contribute to the global supply chain," Plaza said in a letter to vaccine czar Carlito Galvez, Jr.
Plaza said workers in the BPO and export-oriented sectors should be included in the fourth priority list for Covid-19 vaccine as these sectors remain open even during enhanced community quarantine (ECQ).
"PEZA has been hitting two birds in one stone since the beginning of this health crisis. As we give assistance and reprieves to our locator companies who play a big role in keeping our economy afloat, we are protecting the jobs and livelihood of our 1.5 million workers," she said.
According to the IATF, A4 priority group include commuter transport including logistics; public and private wet and dry market vendors, frontline workers in grocery and supermarkets, and deliver services; workers in manufacturing for food, beverage, medical, and pharmaceutical products; frontline workers in food retail, including food service delivery; frontline workers in financial services; frontline workers in hotels and accommodation; priests, pastors, religious leaders of denomination; and security guards or personnel assigned in the establishments, offices, agencies, and organizations in A4.
The fourth priority list for Covid-19 vaccine also includes frontline workers in news media; customer-facing personnel of telecommunications, cable and internet service providers, electricity distributions, and water distribution utilities; frontline personnel in public and private basic education, and higher education institutions and agencies; overseas Filipino workers scheduled for deployment within two months; frontline government workers in legislative branch as well as in law and justice, security, and social protection sectors; frontline government workers engaged in operations of government transport system, quarantine inspection, and safety inspection; frontline government workers in charge of tax collection, assessment of business for incentives, voter registration, national ID, data collection, and price monitoring; diplomatic community and Department of Foreign Affairs personnel in consular operations; and personnel of Department of Public Works and Highways in charge of monitoring government infrastructure projects.
Plaza added PEZA is also helping ecozone locators to procure vaccines for their employees.
"The ecozone vaccination program is one best way PEZA can contribute to the attainment of herd immunity, which will accelerate the country's full reopening of the economy and transition to the new normal," she said (PNA)