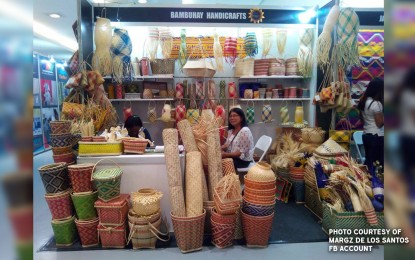 MANILA – The Philippine Guarantee Corporation (PhilGuarantee) has continued to grow its program for viable but pandemic-hit micro, small and medium enterprises (MSMEs) for the third straight month since its launch in December 2020, with a total of PHP1.47 billion in loans guaranteed as of end-March this year.
The guaranteed loans represent a remarkable 612-percent increase from the PHP207 million pilot guarantee portfolio achieved at the launching of the MSME Credit Guarantee Program (MCGP) in December, PhilGuarantee president-chief executive officer Alberto Pascual said in a report to Finance Secretary Carlos Dominguez III.
Pascual informed Dominguez the number of MSME beneficiaries grew by an impressive 312 percent to 12,122 enterprises in March 2021 from 2,948 that were reported to have availed of its guarantee program as of December 2020.
He said the implementation of improved processing and evaluation parameters starting this year led to the increase in the number of beneficiaries under MCGP.
From the start of the MGCP's implementation last year, the PhilGuarantee Governing Board chaired by Dominguez thus far approved a total of PHP37.7 billion in credit guarantee facilities to 34 banks.
"Majority of the MSMEs covered were from the wholesale and retail sector which accounted for 67.26 percent of the total, or PHP503.5 million with 9,113 MSMEs assisted," Pascual said.
Pascual said the second-biggest group with guarantee coverage was the manufacturing sector, which accounted for 7.77 percent or PHP58.17 million with 1,048 assisted MSMEs.
The agriculture sector was the third biggest sector that have benefited from the MGCP, with 158 MSMEs assisted through guarantees amounting to PHP33.91 million, which is 4.53 percent of the loans covered so far under this program, he said.
In the severely affected hotel and restaurant sector, Pascual said 573 MSMEs were assisted with guaranteed loans amounting to PHP28.45 million, while the personal services sector accounted for guarantees amounting to PHP31.82 million.
The MGCP grants a 50-percent guarantee for working capital loans and a guarantee of up to 80 percent of the amount for term loans of up to seven years for capital expenditures.
The average loan size under the MGCP is less than PHP1 million, with the minimum loan amount set at PHP100,000, which can be availed mostly by micro-businesses borrowing from thrift banks and rural banks.
"In terms of geographical distribution, all regions of the country had received assistance under the MGCP," Pascual said.
The top three regions assisted in terms of guaranteed loan amounts were CALABARZON (Cavite, Laguna, Batangas, Rizal and Quezon) or Region IV-A with PHP135.76 million, Central Luzon or Region III with PHP118.87 million, and the Ilocos provinces or Region I with PHP65.82 million.
From three active banks in December 2020, Pascual said there are now 14 active banks participating in the MGCP as of March 31, 2021.
"Twelve more banks are expected to start submitting MSMEs for guarantee coverage as their facilities will be operational," Pascual said.
Under Republic Act (RA) No. 11494 or the Bayanihan to Recover as One Act (Bayanihan 2), MSMEs account for PHP2 billion of the PHP5 billion appropriated for PhilGuarantee to aid pandemic-hit enterprises.
The Bayanihan 2 allocation for PhilGuarantee enabled it to further widen its guarantee headroom of economic activities and extend more assistance to viable but severely affected MSMEs, Pascual said. (PR)