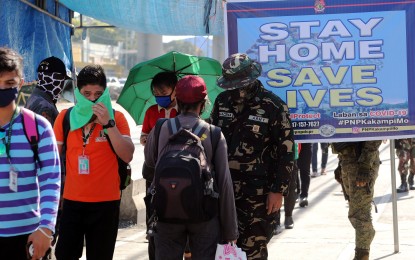 MANILA – President Rodrigo Duterte on Wednesday ordered the Philippine National Police (PNP) to arrest people who will be caught not wearing a face mask properly in public spaces.
In a pre-recorded public address, Duterte told the PNP personnel to detain Filipinos who are improperly using face mask in a bid to "protect the public" against the coronavirus disease 2019 (Covid-19).
Duterte gave the fresh directive, as he noticed that some Filipinos are merely wearing a face mask "just for compliance."
"Itong mask, 'yung iba, for compliance lang, naglalagay ng mask pero nakalabas 'yung ilong. (The use of face mask is being done just for compliance. Some are wearing it without covering their nose)," he said. "I-detain mo tapos imbestigahin mo siya kung bakit ganoon ang behavior nila (Detain and investigate why they are behaving that way)."
Duterte said he has to be strict to stop the further transmission of Covid-19 in the country.
He added that he could not let his guard down, despite the drop in daily Covid-19 infections.
"Kapag hindi ko ganoonin, hindi ko kayo higpitan, walang mangyayari. Iyan nga, for compliance lang kayo (If I am not strict, nothing will happen because [they are wearing a facing mask) just for compliance," he said.
On April 12, PNP chief Gen. Debold Sinas directed all policemen to stop arresting violators of health and quarantine protocols amid the pandemic.
Duterte reiterated his appeal to the public to continue following the minimum public health standards to ensure the country's successful fight against Covid-19.
He said his latest order was meant to bring down the daily coronavirus cases in the country.
"Kaya kung talagang may utak ka, if you are a thinking human person, sundin mo, kung nagiisip ka, may isip ka pa, sundin mo 'yung utos ng gobyerno (So if you really have a brain, if you are a thinking human person, you will follow the government's order)," Duterte said.
While some may consider Duterte's order to ensure the proper wearing of face mask a "stupid requirement," he believed that it is a "critical need" amid the Covid-19 pandemic.
He said his fresh directive would benefit not the government but all Filipinos.
"Hindi iyan akin. Hindi amin. Para iyan sa interes ng bayan na hindi ka makahawa, hindi na mahawa, hindi maguwi, hindi mahawaan (It's not for my own benefit. It's for your own food. That's for the country's interest so you cannot infect or you will not be a carrier of Covid-19)," he said.
The Philippines on Wednesday reported 5,683 new Covid-19 infections, bringing the total active cases to 66,060. There are already 984,210 recoveries and 17,622 deaths.
Stopping illegal activities
Meanwhile, Duterte lamented that illegal activities continue in government despite the country's ongoing fight against Covid-19.
This, after he named several officials from the Department of Environment and Natural Resources who were dismissed from service for soliciting and accepting money in the guise of facilitation fee, and for falsifying documents.
Duterte urged the public anew to send complaints before his office to act on the anomalies allegedly committed by erring public officials.
"Ang tao, magreklamo lang (The public can complain)," he said. "From there, I will take it. Mag-imbestiga ako ng whether nakatanggap na or gusto naghihingi (I will investigate whether they have already received the money or are asking for money). That's the everyday illegal transaction dito sa Pilipinas eh (in the Philippines)."
Duterte added that there is no need to name the corrupt officials since he would use his authority to "dig in the documents."
"I will dismiss these people pagka graft and corruption, lalo na ang bribery (I will dismiss there people if they are involved in graft and corruption, especially in bribery)," he said. "Magsumbong lang kayo sa akin. Meron pa tayong panahon. Gusto ko lang maubos ito (Just tell me. I still have time. I will go after them)." (PNA)