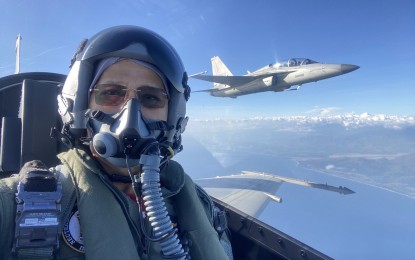 MANILA – The program for the acquisition of multi-role fighter (MRF) aircraft remains on track as these aircraft are urgently needed in defending the country's airspace, Department of National Defense (DND) Secretary Delfin Lorenzana said.
"We are pushing for the acquisition of multi-role fighter aircraft as it is (a) critical capability for the defense of our country's territorial airspace from any form of threat and enforcement of the Philippine Air Defense Identification Zone or ADIZ," Lorenzana said in his speech during the Sanay-Datu Air Defense Exercise held in Basa Air Base, Floridablanca, Pampanga on Thursday.
He declined to give additional details on the progress of the MRF acquisition program.
The DND is looking to acquire at least 12 MRF units to beef up the Philippine Air Force's (PAF) air defense capabilities.
Lorenzana noted that MRFs are urgently needed by the PAF considering that the "situation in this part of the world is deteriorating."
Having MRFs in the PAF inventory would also allow the Armed Forces of the Philippines to explore the "facets of airpower", he added.
The DND has yet to make public the MRFs it is eyeing to acquire for the PAF.
However, reports said the American Lockheed Martin F-16V "Viper", which is considered the latest and most advanced F-16 variant, and the Swedish Saab JAS-39 "Gripen" are among those eyed by the agency.
"Likewise, it is imperative to fast-track the establishment of a standardized tactical data link so all our assets can talk to each other," he said.
Lorenzana assured that the DND is fully supportive of the PAF's strategic goals in developing a credible air defense posture in line with its "Flight Plan 2028".
Meanwhile, he congratulated the members of the PAF Air Defense Command and 5th Fighter Wing for their successful conduct of the Sanay-Datu Air Defense Exercise.
"I congratulate everyone who took part in this ADEX (Air Defense Exercise), pilots and crews of the FA-50PH, the 5th Fighter Wing led by wing commander Brig. Gen. Fabian Pedregosa, and our entire Air Defense Command led by its commander, Maj. Gen. Connor Canlas," he said.
After getting a chance to fly aboard one of the participating FA-50PHs, Lorenzana said he was truly impressed to have experienced an "exhilarating ride" aboard the Mach 1.5 capable aircraft.
"Let me also congratulate the PAF leadership led by its commanding general, Lt. Gen. Allen Paredes, for ensuring the readiness of the command through its Sanay Datu Air Defense Exercise. Today's (Thursday) event gives us a glimpse of how far the PAF has come in its acquisition of new assets in terms of continuously improving its capacity and capability," he said.
Lorenzana also called the exercise significant as it demonstrated the PAF's capability to integrate fighter aircraft operation with radars and command-and-control facilities.
"I am proud to have witnessed first hand how the PAF, through its new platforms, responds to a volatile and complex environment of air warfare. We have seen the integration of the fighter aircraft (with) the radars and the command-and-control facilities. This is vital in accomplishing the mission of the Air Defense Command, which is to contribute to guarding our sovereignty and territorial integrity," he said. (PNA)