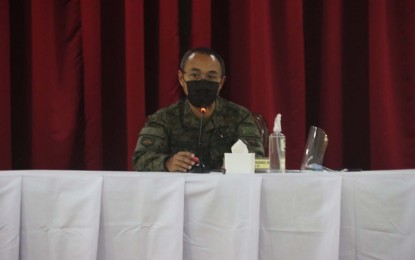 BALER, Aurora – A ranking military official said Friday the downfall of the Communist Party of the Philippines - New People's Army (CPP-NPA) is expected following a series of surrenders by members of communist terrorist groups (CTGs) and underground organizations.
Major General Alfredo V. Rosario Jr., commander of the Army's 7th Infantry "Kaugnay" Division (7ID), based in Fort Magsaysay, Palayan City, Nueva Ecija, said the series of setbacks of the communist groups in Central and Northern Luzon, ranging from the dissolution of its two main units, neutralization of top-ranking leaders, and the withdrawal of support by their exploited supporters, resulted in the collapse of the NPA fronts.
The 7th ID's jurisdiction covers the whole of Ilocos (Region 1) and Central Luzon (Region 3), Abra province, and the municipalities of Besao and Tadian in Mountain Province.
The continuous collapse of the CTG leadership and the influx of surrenderers from their ranks were manifestations that the terrorist groups' downfall is inevitable, Rosario said.
Records showed that the 7ID dismantled the Komiteng Larangang Gerilya (KLG) Caraballo during the first quarter of 2019.
In November of the same year, Redsa Balatan alias "Sining", the deputy secretary of KLG) Sierra Madre was captured during an armed encounter.
Then came the death of Eleuterio Sadyaw Agmaliw alias "Omeng," the leader of KLG Sierra Madre's Domingo Erlano Command, during a joint law enforcement operation with the Philippine National Police in Quezon City in December 2019.
Rosario added that there were some high-profile communist terrorists neutralized during the conduct of internal security operations and law enforcement operations by the government forces in the first quarter of 2021.
Among them were Rommel Tucay, the secretary of KLG Sierra Madre, and Delfin Pimentel, former secretary of Aurora Provincial Committee and Central Luzon Regional Committee of the CTG.
Last year, the 7th ID recorded 192 members of the communist terrorist groups who surrendered while 2,172 members of underground movement organizations (UGMOs) withdrew their support.
Since January to date, Rosario said at least 38 surrenderers were recorded with 63 UGMO members who disaffiliated from the CPP-NPA.
"We unmask the CTG fronts' deceptive scheme of recruitment through massive information dissemination in schools and conflict-affected barangays to protect the vulnerable sectors from being exploited by the rebels," he said.
He said social media has been one of the most effective platforms to expose the truth behind the CTGs.
He added that the progress and development of more barangays can be expected this year, along with the surrender of more CTG members as the government and the whole nation work hand-in-hand to go full throttle with National Task Force to End Local Communist Armed Conflict.
The CPP-NPA is listed as a terrorist organization by the United States, European Union, the United Kingdom, Australia, Canada, New Zealand, and the Philippines. (PNA)