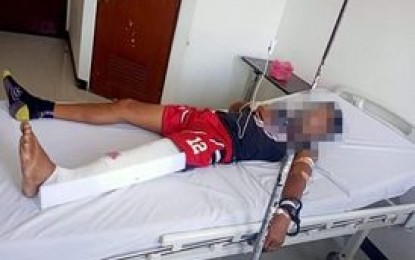 DUMAGUETE CITY – Police filed Thursday evening a murder complaint against the four suspects in the daytime gun-slay of a village chief in Dauin, Negros Oriental before the Provincial Prosecutor's Office.
The suspects were identified as Jhal Salapudin II, 35, a discharged Philippine National Police personnel; Mc Yenzir Embascado Teleron, 22; and Samuel Tejano Quiñanola, 45, all of Zamboanga Sibugay; and Richie Lumaya Mahusay, 39, of Zamboanga del Sur.
Dauin police chief Capt. Louie Batoto, in an interview Friday, said they filed for an inquest proceeding for murder against the four suspects with Fiscal Cathy Cardeno via Zoom at around 6 p.m.
Quiñanola, the alleged gunman, who was recuperating from a self-inflicted gunshot wound on his leg at the Negros Oriental Provincial Hospital, and the three others detained at the Dauin Police Station, participated in the Zoom proceeding, Batoto said.
Witnesses were also on hand as they executed their affidavits, he said.
The suspects signed a waiver for custody with the Dauin police while awaiting a government lawyer from the Provincial Attorney's Office to assist them in their counter-affidavits to be submitted within 10 days from the inquest proceeding for a preliminary investigation, he added.
The four suspects were arrested Wednesday afternoon in Vallehermoso, Negros Oriental, the northernmost town of the province, several hours after Stephen Bandoquillo Alam, village chief of Barangay Bagacay in Dauin was shot dead inside the barangay hall.
The alleged gunman had reportedly shot himself in the leg following a scuffle with the barangay secretary after the village chief was gunned down, Batoto said.
Meanwhile, police are still facing a blank wall as to the motive behind Alam's murder, he said.
"We cannot yet say for sure whether there is a mastermind behind the killing or why the suspects, who are from Mindanao, have come to Negros Oriental, although we are lucky we have witnesses who have positively identified them," Batoto further said.
The town police chief assured that the witnesses are in their custody to ensure their safety. (PNA)