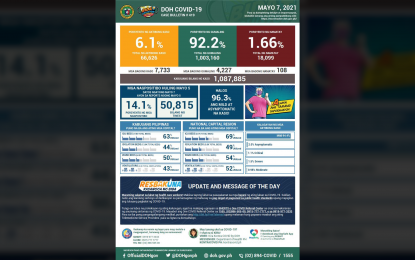 MANILA – The Philippines' recovery tally from the coronavirus disease 2019 (Covid-19) has reached a total of 1,003,160, after 4,227 new recoveries were reported on Friday.
In its latest case bulletin, the Department of Health (DOH) said this accounts for 92.2 percent of total number of Covid-19 infections since the start of the pandemic last year.
The DOH also reported 7,733 new cases, with total active cases now at 66,626 or 6.1 percent of all cases in the country since the pandemic began last year.
Of the active cases, it said 94.4 percent have mild symptoms, followed by the asymptomatic at 2 percent, those with severe symptoms at 1.5 percent, those in critical condition at 1.1 percent, and those with moderate symptoms at 0.98 percent.
It reported 108 new deaths from Covid-19, with the country's casualties against the disease at 18,099 or 1.66 percent of all infections.
Based on reports gathered on Wednesday, a total of 50,815 Covid-19 tests were administered, where 14.1 percent returned positive for the disease.
In the National Capital Region (NCR), the utilization of Covid-19 facilities remains high — 69 percent of 700 intensive care units (ICU) are occupied, 49 percent of 3,800 isolation beds are occupied, 54 percent of 2,200 ward beds are occupied, and 52 percent of ventilators are in use.
For the whole country, 63 percent of 1,900 ICU beds are utilized, as well as 44 percent of 13,600 isolation beds, 50 percent of 6,000 ward beds, and 43 percent of 2,000 ventilators are in use. (PNA)