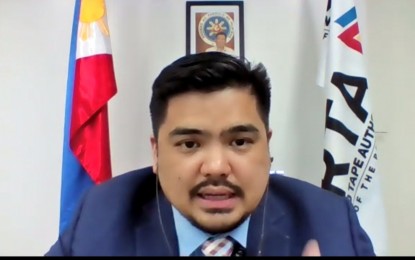 MANILA – As the government is putting up a green lane for manufacturers of the coronavirus disease 2019 (Covid-19) vaccines, the Anti-Red Tape Authority (ARTA) said this initiative will help pharmaceutical firms to set up a production facility in 10 months.
ARTA, along with the Department of Trade and Industry (DTI), Department of Health, Food and Drug Administration, Department of Science and Technology, and National Task Force Against Covid-19, will be releasing a joint memorandum circular (JMC) for the establishment of a green lane for vaccine manufacturers.
The JMC is in response to President Rodrigo Duterte's statement to facilitate and streamline processes in setting up of vaccine manufacturing here for the country to have its local Covid-19 vaccine supply.
"(T)he Joint Memorandum Circular for the green lane is already there and very soon, we will be rolling this out. The idea is to have a one-stop shop and have everything finished in seven to 20 days, all of the applications from the LGUs (local government units) to the different government agencies," ARTA director general Jeremiah Belgica said in a statement Monday.
In a meeting with Duterte last month, DTI Secretary Ramon Lopez said the agency has at least four Covid-19 vaccine manufacturing leads.
Lopez said these companies were requesting the government to facilitate their potential investments by accelerating the processing of permits.
These companies include United Laboratories, Glovax, IG/IP Biotech, and Dr. Zen Biotech, Inc.
"With this (JMC), ARTA estimates vaccine manufacturing plants to be put up in 10 months once all conditions are met," ARTA said.
Belgica added at least two companies are "almost ready" for their fill-and-finish vaccine facility here.
"They would import it (vaccines) in bulk and they would fill-and-finish it in this manufacturing plant," he said.
Meanwhile, the ARTA chief said his office is looking into reports that some interested vaccine manufacturers have experienced extortions.
"Those types of reports are one of the things that we are here for," he said. "(F)or the questions asking for grease money or lagay… please, we're very much interested to know more about this and pursue an investigation," Belgica said. (PNA)