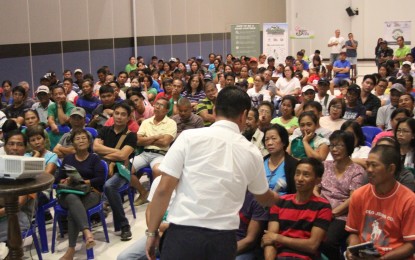 MANILA – Complainants against agricultural investment scheme DV Boer Farm and its chief executive officer, Solomon "Dexter" Villamin, are assured that cases will be decided solely on their merits and not by the supposed influence of concerned parties.
Department of Justice (DOJ) Secretary Menardo Guevarra made the assurance on Monday, noting that the agency is consolidating the complaints to avoid conflicting resolutions.
"The DOJ will resolve these cases solely on the basis of the evidence presented and no other," he told newsmen, in response to reports that those named in the complaint have started name dropping connections in the prosecution.
DV Boer is involved in the "Paiwi" program, which involves goat leasing and raising of rabbits, chicken, and other livestock at package costs ranging from PHP10,000 to PHP2 million.
One complainant, Jayson Molina, claimed that he shelled out PHP6.55 million for a supposed return of investment of 30 percent per annum.
In 2017, he was offered by Villamin to invest in the sub-farm scheme, patterned after the company's farm in Lian, Batangas.
Molina and other investors claimed they have not received the return of their investments. Some got their capital back but later on, were asked to invest some more.
Also named in various charges were Lovely Corpuz, Krizza Aguilar, Joselyn Villamin, and Rosalyn Alvarez-Casihan, who were sued before the Candon City Regional Trial Court in Ilocos Sur.
Separate charges in Tarlac City as well as other provinces are also pending.
Prosecutors in one resolution noted that "there is clearly a false representation as to the business of the corporation" and that the "contract was only executed to give a legal semblance to an otherwise web of illegal schemes of the respondents to extract funds from innocent investors." (PNA)