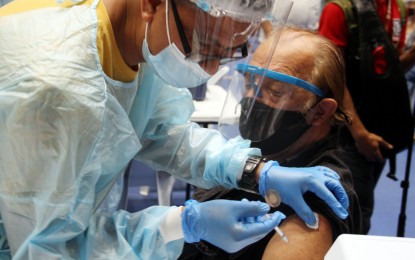 MANILA – The decision of the World Health Organization (WHO) to include China's Sinopharm Covid-19 vaccine on its emergency use listing (EUL) is going to improve the country's access to effective vaccines, Malacañang said on Tuesday.
Presidential Spokesperson Harry Roque made this statement a day after he welcomed the WHO-issued EUL for Sinopharm.
"This development would strengthen our diversified vaccine portfolio as we continue to work on improving access to safe and effective vaccines, including Sinopharm," he said in a press statement.
To date, the Food and Drug Administration (FDA) has granted EUA to six Covid-19 vaccines from AstraZeneca (UK), Bharat Biotech, Gamaleya Institute (India), Johnson & Johnson (US), Pfizer-BioNTech (US), and Sinovac Biotech (China).
Health Secretary Francisco Duque III instructed the DOH to file an EUA application for the vaccine following the inclusion of Sinopharm in WHO's EUL.
Meanwhile, he also expressed optimism that more Filipinos will be vaccinated with the arrival of more Covid-19 vaccines in the second and third quarters.
On Monday night, the first batch of 193,050 doses of Pfizer Covid-19 vaccines donated through the World Health Organization-led (WHO) COVAX Facility arrived in the Philippines.
Prior to the arrival of the Pfizer Covid-19 vaccines, 7,571,000 doses had been delivered to the Philippines as of May 8.
"We have received more than 7.5-M anti-Covid 19 vaccines, and with the arrival of the bulk of our vaccine orders in the coming months, we are confident that we would be able to speed up our coronavirus vaccination program," Roque said.
The country now has four brands of Covid-19 vaccines in its inventory namely Sinovac's CoronaVac (China), AstraZeneca (UK), Sputnik V (Russia), and Pfizer (US).
China earlier donated 1 million doses of CoronaVac to the Philippines, which has so far received 5 million CoronaVac vaccines, including 4 million procured by the government from Sinovac Biotech.
Roque said the government expects to have a total of 11,364,000 doses of different Covid-19 vaccine brands in its inventory for this month alone.
The government initially aimed to inoculate 70 percent of the country's 110 million population to achieve herd immunity, but vaccine czar Carlito Galvez Jr. said the lack of vaccines required tweaking to a "more realistic target." (PNA)