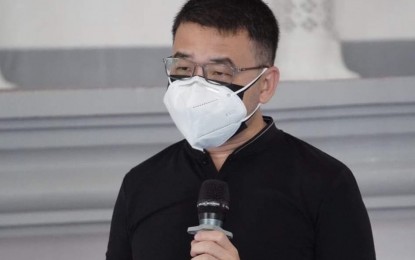 CEBU CITY – An official of the Office of the Presidential Assistant for the Visayas (OPAV) on Wednesday cited the efforts of the Cebu City government in preventing further surge of coronavirus disease 2019 (Covid-19) cases.
OPAV Undersecretary Anthony Gerard Gonzales said the systems in combatting the "second wave" of Covid-19, including the creation of a structured Emergency Operations Center (EOC), has been found to be very effective.
"In the early months of this year, Cebu City experienced its second wave. The people and the LGU didn't blame the national government. Instead, they got their acts together. The LGU, business sector and the people of the city," Gonzales said in a statement.
In January this year, the Department of Health (DOH) in Central Visayas reported a post-holiday surge in Covid-19 cases.
With timely interventions by the EOC through intensified testing and contact tracing, the triple-digit number of new active cases registered from January to March has now gone back to two digits.
The DOH-7 on Wednesday reported only 21 new coronavirus cases in this city with 55 additional reported recoveries. Because of this, the city now has 604 active cases which is 18 percent of the 3,436 active infections in Central Visayas region.
The city now has a total of 22,289 recoveries, which represent 43 percent of the total recoveries in the entire Central Visayas region.
Gonzales noted that despite the "second wave" in Cebu City, it has never reimposed a lockdown since its economy was reopened in September 2020 under the modified general community quarantine (MGCQ), the least quarantine level.
He said the EOC being set up during the first wave of the virus last year made it less alarming for Cebu City LGU in handling the second wave felt in the first few months of 2021.
"It is a war that has to be led by the LGUs with the full backing of the national government, not the other way around. The success of Covid-19 response lies on how the LGUs react," Gonzales said.
He noted the vital role of the barangays, being the smallest administrative division in the country's government, in waging war against Covid-19.
The LGUs, he added, cannot solely depend on strict border controls and lockdowns to address the contagion but they must be aggressive in testing, efficient contact tracing and immediate isolation.
"The easy path is strict border control and lockdown and turning a blind eye on making sure their constituents follow health protocols," Gonzales said. (PNA)