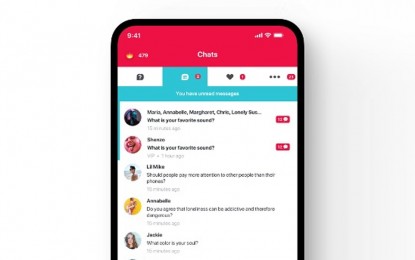 MOSCOW, Russia – ASKfm, an 11-year old global multi-million social network that has gathered a global audience of 348 million who exchange 600 million questions and answers each month, recently launched Anonymous Chats, a new feature requested by 70% of its audience.
"In a couple of years from now, millions of people will look back and mark this as the moment when they opened a window of a dark musty room and let in a breeze of fresh crisp air. Because we believe that free, open, and safe communication is to us socially what breathing is to us physically," ASKfm Chief Executive Officer Janis Grivins said
Anonymous Chats, Grivins said, is designed so that anyone, no matter how socially distanced or connected, no matter how insecure or confident, no matter how talkative or silent, could find someone to communicate with.
"And while we still don't see the end of the pandemic, we believe free, open, and safe communication that our Anonymous Chats bring is what we all need like fresh air currently," she added.
How it all started?
The social network ASKfm was launched in 2010 whose main advantage is anonymity. You can discover new friends by asking them anonymous questions and be discovered by others, or keep your blog, share secrets without revealing your identity.
Since the beginning of 2020, the platform has completely renewed its design, introduced an internal currency of ASKfm coins, launched its own market, an influencer rewards program, secret answers, and a long-awaited subscription package.
To add, the feature of secret answers became very popular during the very first week. People could hide interesting and intriguing answers from prying eyes and "sell" them for coins. In other words, they took advantage of sharing their secret with others.
Goal of new application feature
Not so long ago, the communication between ASKfm users was based on questions and answers only.
ASKfm developers have added a new and most anticipated feature - Anonymous Chats, to make the communication faster, deeper, and more lifelike. All chats are public, while participants can remain anonymous.
Starting a chat is as simple as it sounds: all you have to do is write your message under the user's answer. What makes this feature unique is that you can write your message openly or anonymously. The number of participants is unlimited, and everyone who joins the chat will see the full conversation. Thanks to this, you can create an entire conference of hundreds of users, communicate with classes, groups, and entire companies.
What's more, you can feel safe about the content you receive within the chat feature. All the platform's rules apply to the new feature; thus, messages that violate these rules will be instantly deleted by the moderation service which monitors content safety 24/7.
The next step in developing the social network ASKfm will include "closed chats for two", where you'll be able to communicate privately. (PR)