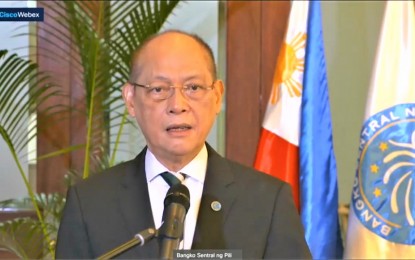 MANILA – Micro, small and medium enterprises (MSMEs) continue gaining access to credit partly through the establishment of credit surety funds (CSFs), as at least 15 additional CSFs are expected to register until end-2021.
In a virtual briefing Wednesday, Bangko Sentral ng Pilipinas (BSP) Governor Benjamin Diokno said an estimated PHP6.93 billion has been released by CSFs to about 17,527 MSMEs as of end-2020 based on the central bank's CSF survey.
He said the latest figure is a conservative amount since only 30 out of the 55 CSFs responded to the survey.
The BSP conceptualized CSFs in 2018 in a bid to support MSMEs that normally lack the collateral, credit track record, and credit knowledge to avail of bank loans.
Funds of CSFs are pooled contributions of participating cooperatives or non-government organizations (NGOs), a local government unit (LGU), and partner institutions including the Development Bank of the Philippines (DBP), Landbank of the Philippines (Landbank), and the Philippine Guarantee Corporation (PhilGuarantee).
CSFs provide a maximum of 80 percent surety cover to loans granted by banks to MSMEs.
In 2016, CSFs were institutionalized through the passage of Republic Act 10744, otherwise known as the Credit Surety Fund Cooperative Act of 2015.
Under the law, CSF cooperatives are the ones that will manage and administer CSFs for its members as these institutions, once registered with the Cooperative Development Authority (CDA), will be given juridical personality.
Since the law's enactment, 14 CSFs have registered with the CDA.
Diokno said at least 15 more CSFs are expected to register by end-2021.
While CSFs are not enough to address financing needs of MSMEs, BSP Financial Inclusion Office director Ellen Joyce Sufficiencia said these are "crucial interventions" to help provide additional capital for small businesses.
"We need a slew of other financial infrastructure to make lending to MSMEs a viable business activity for banks and other financing entities," she said during the same event.
Aside from financial infrastructure, "we also want to encourage and support the capacity of lending institutions to engage in innovative financing," she said.
"It can better support the needs of MSMEs. (We need) specialized lending skills that can better cater to the needs of MSMEs," she added. (PNA)