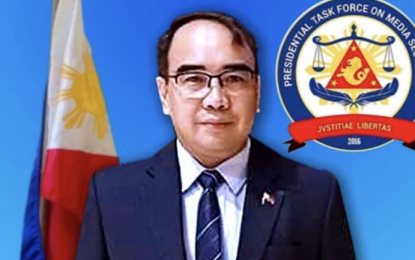 MANILA – The government's anti-insurgency task force has more "important" and "urgent" priorities rather than picking fights with lawmakers, Presidential Communications Operations Office (PCOO) Undersecretary Joel Egco said on Wednesday.
Egco, who was recently designated as spokesperson for "Mass Media Engagements" and "Fact-Checker" of the National Task Force to End Local Communist Armed Conflict's (NTF-ELCAC), shrugged off criticism over the task force's decision to retain Armed Forces of the Philippines (AFP) Southern Luzon Command chief, Lt. Gen Antonio Parlade Jr., and PCOO Undersecretary Lorraine Marie Badoy as co-spokespersons of the task force.
"We listen to everybody. Everybody [has] given their sides of the story already. After everything's been said and done, I think this is the time for all of us to move on," Egco said in an interview over Teleradyo.
Parlade and Badoy earlier drew flak from some lawmakers for their comments linking community pantry organizers to communist rebel groups.
A number of senators even proposed to review the budget and defund the NTF-ELCAC amid issues hounding its alleged red-tagging activities unless Parlade and Badoy are removed from the task force.
"Sana naman (I hope), for the sake of our people, move on lang tayo dun kasi (let's move on because) we have more important and urgent things to do for our people," he said.
On Monday, NTF-ELCAC vice chair and National Security Adviser Hermogenes Esperon announced that six more officials are joining Parlade and Badoy as co-spokespersons of the task force.
The six new spokespersons are:
*Department of the Interior and Local Government (DILG) Undersecretary Jonathan Malaya - Local Government Affairs, Barangay Development Program, International Engagement;
*Presidential Human Rights Committee Secretariat (PHRCS) Undersecretary Severo Catura - International Affairs, Peace Process, Human Rights Concerns;
*PCOO Undersecretary Jose Joel Sy Egco - Mass Media Engagements, Fact-Checker;
*Department of Transportation (DOTr) Assistant Secretary Celine Pialago - NTF-ELCAC Public Affairs and Information, Youth Concerns;
*National Commission on Indigenous Peoples (NCIP) Caraga regional director lawyer Marlon Bosantog - Legal Affairs, Indigenous Peoples Concerns; and
*NCIP's Gaye Florendo - Assistant Spokesperson on NTF-ELCAC Public Affairs and on Indigenous Peoples Concerns.
Esperon said that there is a need to designate eight spokespersons due to the "multi-faceted, multi-layered" nature of the task force.
"Remember, the national task force is composed of all agencies of government and so we are just drawing the support and pool of talents from all the government agencies," Esperon said in a press conference.
Since the officials are not working for NTF-ELCAC on a "full-time" basis, he said eight spokespersons were designated so that "not all the work goes to only two." (PNA)