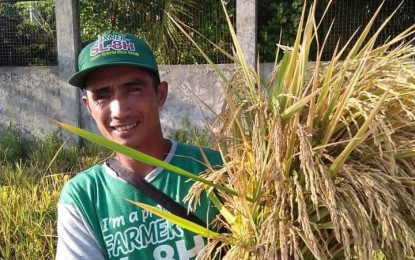 SAN JOSE DE BUENAVISTA, Antique – His physical deformity might have prevented him from pursuing his dream job, yet it brought him into the world of farming that landed him as one of the 300 national awardees of the Department of Agriculture (DA) Masagana Ani in 2020.
"I am an aeronautics mechanic graduate and had dreamed of working at the Iloilo Airport, but because of an accident after my college graduation I got blinded on my left eye," said 43-year old Rehuel Almores, a father of four from Barangay Supa in this Antique's capital town of San Jose de Buenavista.
In an interview Thursday, he said that he started learning to operate the tractor while he was helping on their family farm when he was in Grade 1.
That's what started his love for farming which now gives him the means of livelihood to feed his wife and children.
"I believe that if only you work hard as a farmer your family will never go hungry," he said.
For the past 15 years, he has been renting lands to till but it was only in 2014 when he started planting hybrid rice.
His breakthrough came last year when he rented a farm in Barangay Supa which led to his award.
"I engaged myself into planting SL-20H or hybrid rice and I was able to harvest 314 cavans of palay from a hectare of lot that I rented for third cropping in Barangay Supa," he said.
Usually a hectare of farm yields only about 120 cavans, he explained.
"I planted March then and so I was able to harvest the first week of June last year," he said.
He earned PHP216,000, almost double the amount of expenses he incurred starting from land preparation to harvesting including the farm rental.
Almores used the cash prize of PHP50,000 that came with the national award to buy a thresher and other farm equipment.

His biggest aspiration now as a farmer is to be able to buy the land that he currently tills.
"I really want to buy my own farm and I know I would be able to realize it sooner," he promised to himself.
Right now, Almores is elated that as he works for his family's needs, he is also able to share his know-how with other farmers and at the same time inspire them with what he was able to attain through his love for farming.
"I am now a farmer's association president with 30 members," he said.
He is teaching their members about farming techniques like transplanting so that they may also be able to have a good harvest.
By transplanting, they let the seeds first grow in a plastic box for 15 days and then directly plant it on the soil.
He said that his fellow farmers should not just be contented that they could plant and harvest, but they should strive hard to maximize their production. (PNA)