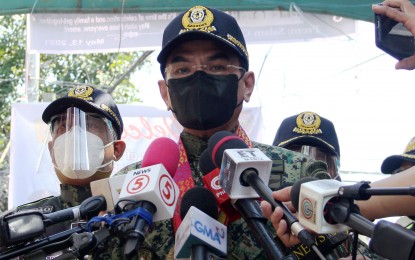 MANILA – The Philippine National Police (PNP) plans to acquire another 32,136 body cameras for its police stations and units nationwide for use in anti-crime operations.
In a statement on Thursday, PNP chief, Gen. Guillermo Eleazar said this would complete the police force's requirement of 34,832 body cameras.
He said 2,696 body cams earlier purchased by the PNP have already been distributed to the different police stations and units in key cities across the country.
"But in the meantime that there is still no budget for this additional procurement, we will make use of what we have and hopefully, this would convince our lawmakers to fund additional body cameras for the PNP in the spirit of transparency and effective law enforcement," he added.
Eleazar is confident that the use of body cameras will finally happen under his leadership.
He said he would initially want these body cameras used by policemen in the service of court-issued search warrants to clear up allegations of irregularities in such operations.
"These body cameras will ensure transparency in police operations and, hopefully, put a stop to allegations that policemen are engaged in the planting of evidence or even the summary execution of suspects," he added.
Eleazar said the PNP has been in touch with the Supreme Court (SC) regarding the use of body cameras in the service of search and arrest warrants.
A meeting was held last month between the police force and the SC to discuss other matters as well.
Eleazar said the police force is still awaiting guidance and protocols from the high court in the use of body cameras to address privacy concerns and avoid legal repercussions. (PNA)