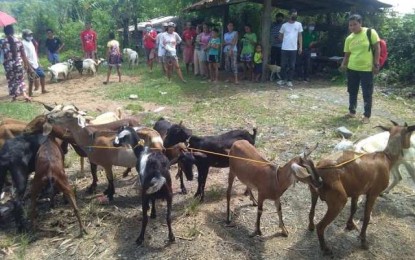 SAN JOSE DE BUENAVISTA, Antique – Farmers in the mountainous municipality of San Remigio are recipients of a PHP2.8-million grant from the Department of Agriculture (DA) Special Area for Agricultural Development (SAAD) program to fund a goat project.
DA Agriculture Officer 1 Sonie Guanco, head of the agriculture provincial office in Antique, said Friday that farmers' associations from four barangays of the municipality received 108 out of the 180 total goat heads under the program.
"The farmers' associations were given goats because their areas are suitable for goat-raising," he said in an interview.
The farmers' associations were from Barangays Nagbangi I, Orquia, General Luna, and Carawisan II.
The farmers' association in Nagbangi I was given 72 goats composed of 12 bucks and 60 does while Orquia, General Luna, and Carawisan II received 36 heads each comprising six bucks and 30 does.
The distributed goats were 18 months to two years old already suitable for breeding.
The goat production project is an addition to their palay production livelihood, Guanco said.
"The advantage of goat production project is that the animals are not hard to raise, does not need a big capital to start with, and does not require commercial feeds," he said.
He added that there is also high demand for goat meat which has less cholesterol.
The recipient farmers' associations are not required to have a payback, but they have to raise the animals well to later distribute its kids to the other members of the association.
"Last year, were also able to distribute goats to the farmers' associations in the five barangays of Laua-an town," he said.
Guanco added that the successful project started only with 219 goats.
"So far there had been no reported death among goats in Laua-an," he said. (PNA)