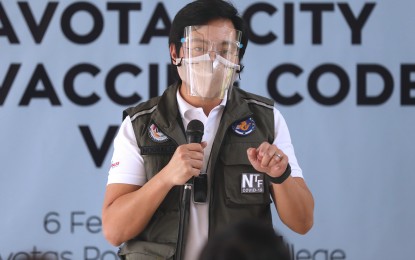 MANILA – To help ease congestion in hospitals in Metro Manila and nearby provinces (NCR Plus), Cabinet Secretary Karlo Nograles is encouraging the use of virgin coconut oil (VCO) to help treat mild Covid-19 cases.
Over the weekend, Nograles, co-chair of the Inter-Agency Task Force for the Management of Emerging Infectious Diseases (IATF), led the distribution of VCO to Level 1 hospitals in Bulacan tasked to treat Covid-19 cases with mild symptoms.
Four hospitals -- Dr. Yanga's Hospital, Inc., Malolos San Vicente Hospital, Mary Immaculate Maternity and General Hospital, and La Consolacion University General Hospital -- treating a total of 46 Covid-19 patients received VCO from Nograles' office.
Three other Level 1 hospitals in Bulacan likewise received VCO supplies. These are Ospital ng Guiguinto, Romel Cruz Hospital, and Guiguinto Polymed Hospital, Inc.
"Right now it would benefit our hospital system and even our medical front-liners if we could both reduce the numbers of those infected and reduce the treatment time of Covid patients. This way, the resources of our medical facilities will not be overly stretched beyond their intended capacities," he said.
Nograles said frontline healthcare workers in the NCR Plus "have had to work multiple shifts, and really work overtime to care for those who have contracted Covid-19."
"We recognize their dedication and the sacrifices they have made. So if we can do something to lighten their burden, dapat gawin natin. Kailangan natin magtulungan (we should do it. We need to help each other)," he said.
Citing studies conducted by the Department of Science and Technology (DOST), Nograles said "VCO can help those with Covid-19 recover faster" because of its potential benefits and practically zero side effects.
He said individuals with Covid-19 symptoms are advised to take one tablespoon of VCO after each meal for three straight days.
If tolerated well, he said they are then advised to double the dosage from the fourth day onward, until the patient tests negative.
Patients may also rub VCO on their nostrils and gargle with VCO to help alleviate symptoms, he added.
The DOST has made no direct mention of VCO as an effective antiviral ingredient against Covid-19, but its components, mainly lauric acid and monolaurin or glycerol monolaureate, are purported to have antiviral activity against different viruses.
DOST-Philippine Council for Health Research and Development executive director Jaime Montoya earlier clarified that its study on the effectiveness of VCO in treating Covid-19 patients does not signify VCO can cure someone from Covid-19.
"The study was designed to have VCO as an adjuvant, to be given on top of what is the standard of care," Montoyo said, referring to a drug or other substance, or a combination of substances used to increase the efficacy or potency of certain drugs. (PNA)