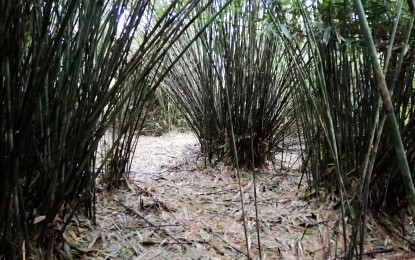 BURAUEN, Leyte – Tired of hustle and bustle of the city? It's time to disconnect from your daily grind and reconnect with nature by exploring the forest of Mahagnao Volcano Natural Park (MVNP).
In a less than two-hour trek, you will get to see dozens of huge trees, rare small and giant ferns, wild flowers, insects, birds, different types of bamboo, and get a closer view of Malagsum Lake, the home of the endemic wild ducks.
The Tanguile Trail launched on Saturday (May 15) is named after the dipterocarp Tanguile trees dominant in the area, giving visitors the experience of what it is to "commune with nature and immerse in a forest atmosphere."
The trail brings the sense of relaxation through your five senses by seeing the forest surrounding, hearing the chirping birds and forest winds, touching the cold ground by walking barefoot, inhaling the wonder of blooms, and taste the sweetness of young melastoma plant pods.
"You will notice that farmers in our village live longer since they go barefoot every time they visit their farms. Grounding in the forest has lots of health benefits. It is a therapeutic technique that electrically reconnects you to the earth," said tour guide Beverly Ampong, 43, as she asked the group to stop and remove footwear for a few minutes.
The entire trail offers the forest bathing experience or known as Shinrin-yoku, popularized in Japan to combat the death by stress phenomenon.
"It is called bathing because although you would not literally take a bath, you soak yourself in the forest atmosphere," said Ampong, a former village day care worker who has been trained in the past two years on forest tour guiding.
The trail ends at Malagsum Lake, one of three lakes of Mahagnao known for its green acidic water, a sanctuary to wild ducks of several species.
Near the lake thrives a type of Bermuda grass that only grows in soil soaked in acidic lake water.
The 500-meter trek avoids steep slopes, making it ideal for elderly, children, and others who are not inclined into extreme forest adventures.
Myrna Agustin, 39, the president of MVNP ecotourism association, said the newest tourism activity will bring economic opportunities to locals who were used to cultivate traditional crops.
"It took a lot of planning and preparation for us to launch this tour package. All the 34 members of our association have been actively involved to welcome visitors in our community," said Agustin, who returned to their village in 2010 after working as a saleslady, cashier, household worker, and lady guard in the National Capital Region.
The tour package costs PHP3,600 for a group of five. It includes leis, welcome drink, watching locals performing folk dance, guiding and interpretation, lunch, refreshment, and a view of the Mahagnao Lake.
The biggest lake in the village has a length of 15,590 meters and a surface area of about 16 hectares, ideal for boating, kayaking, and stand-up paddling.
Discover the local cuisine through a buffet lunch of rice, native chicken cooked in coconut milk, local fish simmered in vinegar, fried local fish, fried dried fish, camote (sweet potato roll), fruits, and coconut juice.
The most noticed food in the dining table is the "lawot-lawot", a vegetable soup comprising 21 different vegetables –among them the harum (red amaranth), sida-sida (Philippine spinach), kulitis (wild spinach), and agitway (sunset hibiscus) --simmered in coconut milk.
"All our food(s) are produced in our community, presented in such a way that values the history, the culture, and the environment of our place," Agustin said.
Burauen town tourism officer Carmela Corazon Crebillo said the local government has been investing millions of pesos in the past few years to develop the ecotourism site despite disruptions caused by the current health crisis.
"The local government plans to build a bird hide in the vicinity of Lake Malagsum. This will give bird lovers the chance to observe the ducks from afar without disturbing them in their natural habitat. We will also build a reception area near Lake Mahagnao, and set up at the lake six floating pavilions where guests could relax and spend time with nature," Crebillo said.
Proclaimed as a national park in 1937, the site is endowed with different natural attractions –a lake, falls, multi-colored mud, virgin forests, and lagoon.
Mahagnao, located 860 meters above sea level, is 18 kms. away from the town center of Burauen.
The town in central Leyte is about 50 kms. from Tacloban City, the regional capital.
From Tacloban, where the airport is located, the site is one hour and 30 minutes by bus.
At the town center, visitors without a car can hire a motorcycle to get to Mahagnao, passing through seven villages. (PNA)