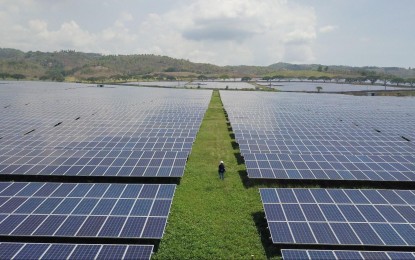 MANILA – The country will have another source of solar energy as Aboitiz Power Corp. will build a 74-megawatt solar power facility in Cayanga, Bugallon in Pangasinan.
"We are very excited about this because this is another step towards achieving our 10-year strategy with regard to significantly increasing our RE (renewable energy) capacity and aiming for a 50:50 balance between our Cleanergy and thermal portfolios," AboitizPower president and chief executive officer Emmanuel Rubio said in a statement Thursday.
Construction of the project will commence in the second half of the year, with commercial operations targeted in the fourth quarter of 2022.
"Majority of the solar facility's capacity will be contracted for retail electricity supply, which we hope can help bring more sustainable energy to homes and businesses in the country," Rubio added.
The Cayanga facility is the second solar power project of AboitizPower.
In 2016, the company inaugurated the 59-MW-peak solar power facility in San Carlos City, Negros Occidental.
In a speaking engagement during the Financial Executives Institute of the Philippines (FINEX) General Membership Meeting Wednesday, Department of Energy (DOE) Secretary Alfonso Cusi has encouraged the private sector to invest in renewable energy to support the country's energy security.
"As we are seeking to rebuild back better into the 'new normal', our desire to attain power sufficiency should all the more be intensified," Cusi said.
He added that the government introduces policies and laws to make the Philippines an investment destination for investments in the power sector.
The DOE chief cited policies to increase opportunities in renewable energy sector such as the moratorium on endorsement of greenfield coal-fired power plants, the Renewable Energy Act of 2008 which promotes the development of the country's renewable resources, and the 3rd Open and Competitive Selection Process (OCSP3) which allows 100 percent foreign participation in large-scale geothermal exploration, development, and utilization projects, among others. (PNA)