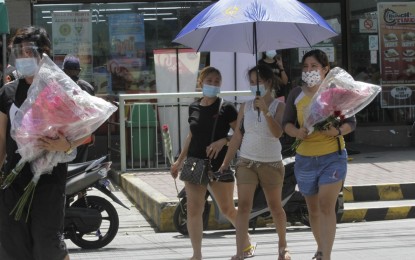 MANILA – The seven-day average of new Covid-19 cases in the National Capital Region (NCR) decreased by 25 percent to 1,299, the OCTA Research said Friday.
In its latest monitoring report, the OCTA research group also reported the reproduction number in the NCR was 0.54. The reproduction number is used to describe the number of people who can get the virus from a Covid-19 positive person.
The figures were recorded from May 14 to 20.
During the surge in Covid-19 cases the past two months, the NCR reported the most number of cases among regions nationwide.
Due to the rise in cases then, the government placed the NCR and its nearby provinces, Bulacan, Laguna, Cavite and Rizal under enhanced community quarantine anew, the strictest among movement restrictions.
The quarantine restrictions bore fruit, as the region saw a gradual decline in new cases.
The weekly positivity rate in the NCR was 11 percent while the healthcare utilization rate (HCUR) in the region was considered safe at 48 percent.
Over the same period, nine local government units (LGUs) in NCR were classified under the moderate risk category.
According to the Department of Health, an LGU is considered of moderate risk if it has an average daily attack rate (ADAR) of less than 10 per 100,000 population while an LGU with an ADAR greater than 10 is considered high risk.
LGUs in the NCR considered of moderate risk include Navotas, Malabon, Caloocan, Manila, Pasay, Muntinlupa, Taguig, Valenzuela and Quezon City.
Meanwhile, the LGUs within the NCR Plus bubble considered of moderate risk include Antipolo, Dasmariñas, Bacoor and Imus.
A significant growth rate in the number of new Covid-19 cases was observed in Cagayan de Oro at 43 percent, Bacolod at 37 percent, Iloilo City at 69 percent, Cabuyao (Laguna) at 37 percent and San Pablo (Laguna) at 29 percent.
Although Zamboanga City's upward trend has slowed down, it remains second in the most number of new cases at 163, next to Quezon City with 312 new cases.
HCUR remained high in Zamboanga City at 74 percent, Cagayan de Oro at 75 percent, Baguio City at 79 percent, Dasmariñas at 76 percent, Tuguegarao at 71 percent and San Pablo 76 percent, while HCUR was at critical level in General Trias at 96 percent.
The positivity rate in Puerto Princesa also remained extremely high at 87 percent over the past week. (PNA)