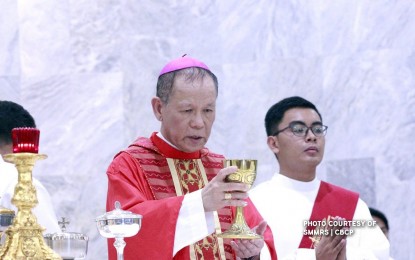 MANILA – Outgoing Capiz Archbishop Jose Cardinal Advincula will officially assume his post as the 33rd Archbishop of Manila next month.
Manila Apostolic Administrator Bishop Broderick Pabillo confirmed the details of the event in a message to reporters.
Papal Nuncio to the Philippines, Archbishop Charles Brown will celebrate the Mass for Advincula's installation at the Manila Cathedral in Intramuros on June 24.
The archdiocese is set to release the full details of the installation ceremony next week.
Before his scheduled installation, Advincula is set to receive his "red hat" and ring as symbols of his position in the Catholic hierarchy from the papal nuncio during Mass at the Immaculate Conception Cathedral in Roxas City on May 28.
On March 25, Pope Francis appointed Advincula to head the Manila archdiocese, which is home to over three million Catholics.
The 69-year-old prelate replaced Luis Antonio Cardinal Tagle, who is now the head of Prefect of the Congregation for the Evangelization of People in the Vatican. (PNA)