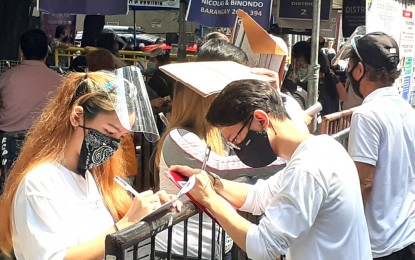 MANILA – The Commission on Elections (Comelec) has received close to three million applications for voter registration and other requests since the listing resumed in September 2020.
Based on the figures released by the poll body Thursday evening, a total of 2,904,347 applications have been accepted from the public nationwide as of May 15.
A total of 1,493,417 applications for registration as new voters were received from September 2020 to May 2021 from people aged 18 years old and above.
Of the number, female applicants are a little higher at 771,161 while male registrants were only 722,256.
So far, the highest number of applications was recorded from January to March this year with 776,194, followed by October to December 2020, 318,172; April to May 15, 2021, 228,825 and September 2020, 170,226.
Other applications such as transfer from other City/Municipality, numbering to 765,461; transfer within the same city/municipality is at 169,648; for transfer with deactivation, 32,909; transfer with reactivating and correction of entries, 12,636; transfer with correction of entries, 41,169.
They also received, applications for change of name/correction of entries totaling 193,703; inclusion of record in the Book of Voters, 284; reinstatement of name in the list of voters, 106; and transfer from overseas absentee voting (OAV), 10,326.
Applications for registration and other requests may be filed at all Offices of Election Officer in the city/municipality where the applicants reside, from 8 a.m. to 5 p.m., Mondays to Saturdays.
Satellite voter registration are also being held in barangays.
On May 17, the voter registration has resumed in Metro Manila and other neighboring provinces after the government has downgraded their quarantine classification to general community quarantine. (PNA)