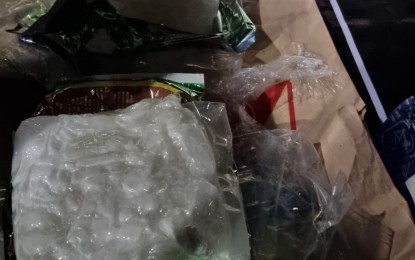 MANILA – Two suspected drug dealers were killed in a joint Philippine National Police-Philippine Drug Enforcement Agency (PNP-PDEA) anti-illegal drugs operations while some 10 kilograms of shabu worth PHP68 million were seized in Muntinlupa City Sunday night.
Philippine National Police (PNP) chief, Gen. Guillermo Eleazar, identified the slain suspects as Jordan Sabandal Abrigo and Jayvee de Guzman.
Seized were three plastic packs of Chinese teabags containing an estimated 10 kilograms of suspected white crystalline shabu, one black Nissan Cefiro without plate number, two loaded caliber .45 pistols, and marked money.
Citing reports from PNP-Drug Enforcement Group director, Brig. Gen. Remus Medina, Eleazar said the operation took place Sunday evening in Katarungan Village 1.
During the operation, the suspects found out they were dealing with law enforcers, prompting the firefight.
No member of the law enforcement teams was hurt during the operation.
In his report to Eleazar, Medina said the suspects were members of the Divinagracia Drug Group led by Michael Divinagracia and a certain Jhonson, a Chinese national currently serving sentence at New Bilibid Prison.
The group is known to be drug distributors in different areas of the National Capital Region, Region 6 and other nearby provinces.
The drug syndicate also operates in different areas of Visayas and Mindanao using cargo trucks that travel via RORO from Batangas Port and received by their Muslim cohorts in the area, Eleazar said.
"I commend the joint effort of PNP-PDEA operatives for another laudable accomplishment as we continue to invigorate our anti-illegal drugs campaign to totally wipe out all forms of illegal drugs in order to realize our quest for a drug-free nation," Eleazar said.
In a separate operation in Mandaluyong City, police and anti-narcotics agents arrested three suspected drug pushers who are all minors and seized some PHP40.8 million worth of shabu .
PDEA spokesperson Derrick Carreon withheld the identity of the minors who were arrested around 11 a.m. Sunday along Sierra Madre Street, Barangay Highway Hills.
The operatives seized some six kilos of suspected shabu valued at PHP40.8 million, a mobile phone, one Nissan Sentra with plate number ZTN 212, and 10 bundles of boodle money with one genuine PHP1,000 bill from the suspects.
The suspects will be charged with violation of Republic Act 9165 or the Comprehensive Dangerous Drugs Act of 2002. (PNA)