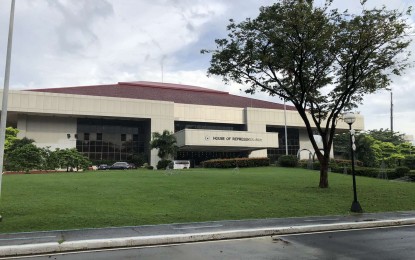 MANILA – The PHP405.6-billion stimulus package under the Bayanihan to Arise As One Act or the Bayanihan 3 has been endorsed for plenary approval at the House of Representatives.
In a joint hearing on Monday, the House Committee on Economic Affairs and Committee on Social Services approved the unnumbered substitute bill to Bayanihan 3, which aims to boost the country's economic recovery from the coronavirus disease 2019 (Covid-19) pandemic through direct emergency and social amelioration to Filipinos, livelihood interventions, as well as food security and health interventions.
Speaker Lord Allan Velasco, one of the principal authors of the measure, said at least 290 lawmakers are major writers and co-writers of the third Bayanihan measure.
The bill provides two rounds of cash assistance to every Filipino worth PHP1,000 each tranche. The cash subsidy program would have direct funding of PHP108 billion, and another PHP108 billion in standby funds.
"Lahat po dapat mabigyan natin ng tulong ngayong pandemya (Everyone should be given aid during this pandemic)," Velasco said. "It has to be equitable. Hindi 'yung isang household bibigyan ng certain amount, eh baka tatatlo lang sila sa bahay tapos ang isang household naman ay 15 ang myembro (One household with only three members shouldn't receive an amount equal to another household that has 15 members)."
Around PHP12 billion shall be appropriated for Phase 1 of assistance for households under the Assistance to Individuals in Crisis Situation (AICS) program of the Department of Social Welfare and Development (DSWD). Some PHP12 billion shall be appropriated for Phase 2 and PHP6 billion for Phase 3 of the AICS program.
To assist micro, small and medium enterprises (MSMEs), the Small Business Wage Subsidy (SBWS) program shall be continued and expanded with direct funding of PHP8 billion, and stand-by funds worth PHP8 billion for Phase 2 and PHP4 billion for Phase 3.
To provide temporary employment to displaced workers, around PHP10 billion shall be appropriated for the implementation of the Tulong Panghanapbuhay sa Ating Displaced/Disadvantaged Workers (TUPAD), Covid-19 Adjustment Measures Program (CAMP), and Abot Kamay ang Pagtulong (AKAP) Program, while PHP10 billion shall be appropriated as stand-by funds for Phase 2 and PHP5 billion for Phase 3.
Assistance to the agri-fishery sector will receive a total of PHP30 billion worth of standby funds to finance programs and interventions toward food security and farmer income security and welfare.
The bill allocates PHP3 billion for medical assistance for indigent patients, and stand-by funds worth PHP3 billion each for Phases 2 and 3.
A total of PHP54.6 billion shall be allocated to the Pension and Gratuity Fund for retired military and the police, while the amount of PHP5.6 billion shall be appropriated to assist the Department of Education in the implementation of its digital education, information technology, and digital infrastructure and alternative learning modalities as part of the pandemic response and transition to a new normal.
Stand-by funds worth PHP5 billion each shall be allocated for the implementation of the Masustansyang Pagkain para sa Batang Pilipino Act and Kalusugan at Nutrisyon ng Mag-Nanay Act, both of which are aimed at providing national nutrition. (PNA)