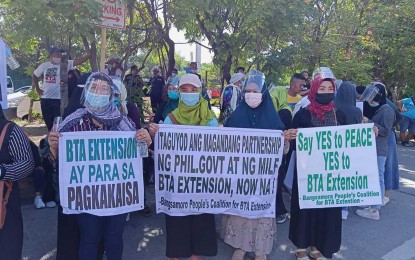 MANILA – A group expressed its support to measures seeking the postponement of elections at the Bangsamoro Autonomous Region in Muslim Mindanao (BARMM) to 2025 instead of next year.
In a news release, the Bangsamoro People's Coalition for the Bangsamoro Transition Authority (BTA) Extension said this will help the body finish its task as reflected in the provisions of the Bangsamoro Organic Law (BOL).
"We urge our lawmakers to exercise prudence and fairness especially in the composition of the members of the Parliament as to its representations. It should be inclusive to include all major stakeholders and ensure sectoral representations," the group said.
It also urged lawmakers to extend the BTA based on the provisions of the BOL which was clearly ratified by the overwhelming majority of the Bangsamoro people.
"We call on our beloved lawmakers not to make the bill extending the BTA to 2025 hostage to the coming 2022 national elections. We know that many lawmakers engaged in the current process are running for national positions in the 2022 polls," it added.
Under the BOL, the transition period is only three years from 2019 with an election of BARMM officials also set on May 9, 2022, in time for the next national and local polls.
BARMM officials want to skip the scheduled 2022 polls for the region and move it until 2025 to complete transitional programs and projects for the constituents hampered by the coronavirus pandemic.
The group also called on President Rodrigo Roa Duterte to certify the bill as urgent.
"Extending the BTA is extending the responsive partnership of the government and the Moro Islamic Liberation Front. This productive partnership will provide more opportunity towards a more responsive Bangsamoro government," it said. (PR)