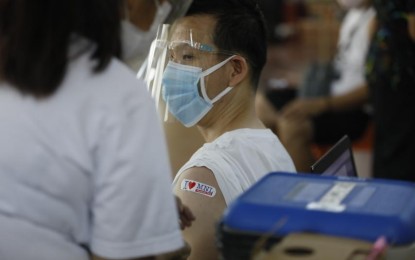 MANILA – Immediate family members of medical front-liners and overseas Filipino workers who are scheduled for deployment within the next four months are now under the A1 priority group for the coronavirus disease 2019 (Covid-19) vaccination, Malacañang said on Friday.
This developed after the Inter-Agency Task Force for the Management of Emerging Infectious Diseases (IATF-EID) adopted Thursday the recommendation of the National Task Force Against Covid-19 to refine the A4 vaccination group, Presidential Spokesperson Harry Roque said.
"The IATF likewise re-categorized to Priority Group A1 outbound overseas Filipino workers for deployment within the next four months from the intended date of vaccination," Roque, also acting as IATF-EID spokesperson, said in a press statement.
In the case of immediate family members of healthcare workers, they would be under the A1 category "once vaccine supply becomes available," Roque said.
All gov't workers, self-employed now under A4
The IATF-EID, Roque said, also decided to include all employees in government agencies and instrumentalities, including government-owned and controlled corporations and local government units, in the A4 vaccination group.
Private workers who are required to be physically present at their designated workplace outside their residences now also belong to the A4 category, Roque said.
Initially, only frontline workers in the government and the private sector are under the A4 group.
Roque said workers in the informal sector and self-employed who may be required to work outside their residences, as well as those working in private households, are also elevated to the A4 level.
Vaccine deployment
The IATF-EID also agreed that vaccine deployment for the A4 priority group would be initially focused on Metro Manila and the provinces of Bulacan, Pampanga, Cavite, Laguna, Batangas, Rizal, Metro Cebu, and Metro Davao, Roque said.
Local government units (LGUs), he said, are also required to exhaust all efforts to ensure the continued prioritization of A1, A2, and A3 groups by establishing special lanes and vaccination centers.
Roque said LGUs should ensure that medical front-liners, senior citizens, and other vulnerable sectors would be given priority in the vaccination program.
"For Priority Group A4, LGUs may give preference for persons aged 40 to 59 years old over 18 to 39 years old," he said. (PNA)