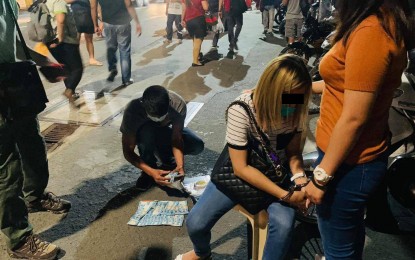 MANILA – A woman who purportedly offers service for a fee in exchange for assistance to police applicants was arrested in Taguig City on Thursday.
In a press briefing on Friday, Philippine National Police (PNP) chief, Gen. Guillermo Eleazar, identified the suspect as Evelyn Aleman alias "Eva Fonda," 35, an agent of the Public Safety Savings and Loan Association Inc. (PSSLAI), and a resident of Bicutan, Taguig City.
The PSSLAI is a money-lending group that caters to policemen and their families.
Aleman's arrest came just hours after the police force launched its "nameless and faceless" recruitment process for police aspirants known as the Comprehensive Online Recruitment Encrypting System (CORES).
The suspect was arrested after receiving PHP50,000 marked money from a poseur applicant in an entrapment operation along Gen. Santos Avenue in Barangay Upper Bicutan.
The operation stemmed from the result of the cyber patrolling of operatives of the Anti-Cybercrime Group (ACG) who monitored that Aleman had been offering assistance to PNP Recruitment Applicants in exchange for money in her Facebook account.
He said Aleman has been asking PHP50,000 per applicant as payment to secure the passing of the neuro-psychiatric exam.
The suspect claimed that she was able to help a lot of applicants to enter the PNP and will help until they take the oath. She even boasted that her "pamato" or the person helping her is a doctor with the rank of police colonel.
"Sa ating mga aplikante, huwag kayong maniniwala sa mga ganitong klaseng modus. Binago na natin ang kultura ng korapsyon at palakasan sa recruitment system kaya masasayang lang ang pera ninyo (To our applicants, do not fall for this kind of modus. We have reformed the culture of corruption and patronage in our recruitment system so your money will just go to waste)," Eleazar said.
He vowed a stringent crackdown against unscrupulous individuals who are preying on police applicants.
Aleman was placed under the custody of the Integrity Monitoring and Enforcement Group and will be facing appropriate criminal charges including violation of Section 21H (Fixing and/or collusion with fixers) of Republic Act 11032 (Ease of Doing Business and Efficient Government Service Delivery Act of 2018) in relation to Section 6 (Cyber-squatting) of RA 10175 (Cybercrime Prevention Act of 2012).
Under the CORES, the QR code system will be used to ensure the concealment of the identity of the applicant. Only the applicant's qualifications will be evaluated in determining if he/she will be accepted in the police force.
It will be utilized in the entire application process of the applicant, including the Body Mass Index and agility test, drug and neuropsychiatric test, and physical, medical, and even dental examinations.
Eleazar also ordered the ACG and the IMEG to further intensify the operations against this kind of modus operandi and to investigate if Aleman has indeed cohorts in the PNP, including her husband who is confirmed to be a policeman.
He also urged police applicants to immediately report to the PNP, through the E-Sumbong, any person who would approach and offer them assistance in the recruitment system. (PNA)