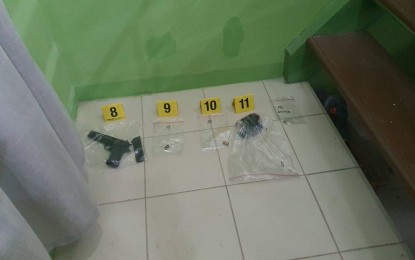 ILOILO CITY – The Communist Party of the Philippines-New People's Army (CPP-NPA) was dealt with another blow following the death of a top official during a gunfight with police operatives serving warrants of arrest in Barangay Balabag, Pavia, Iloilo on Friday night.
In an official statement released on Saturday, the Police Regional Office 6 (PRO6) identified the communist terrorist group official as Reynaldo Bocala, alias Bading, finance officer of the Kilusang Rehiyon (KR)-Panay.
A National Democratic Front document of identification issued on August 26, 2016, with control number PP 978525, was also recovered from the scene of the crime. He was tagged as a consultant for the Visayas.
"Malaking kawalan sa kilusan ang pagkawala ni Bocala (His death is a big loss to the movement). It will impede their operations because he is the one managing the finances of KR-Panay," Brig. Gen. Rolando Miranda, PRO 6 Director, said.
Multiple cases
Bocala carried a PHP4.8 million bounty for cases of robbery in band with frustrated homicide and damage to property with the use of motor vehicle and unlicensed firearms; robbery with serious physical injuries; violation of Presidential Decree 1744 (Destructive Arson); and murder.
He was the husband of Maria Concepcion "Concha" Araneta, who is the deputy secretary of KR-Panay.
Also killed during the operation was Bocala's alleged aide, Willy Epago (alias Ramon). Both were declared dead on the spot.
Citing the account of the operatives of the Criminal Investigation and Detection Group-6, Miranda said Epago ran to his house when the warrants were about to be served.
The duo then fired upon authorities, hitting one of the operatives that prompted them to retaliate.
Miranda said that the police operative was not "gravely injured" as he was wearing a bulletproof vest.
Forensic experts recovered two .45 caliber pistols, subversive documents, empty shells, identification cards of the subjects, and mobile phones.
Elusive target
Miranda said Bocala "was very elusive" and being monitored by intelligence units.
"As per the RID (Regional Intelligence Division), PRO-6, they launched five operations in the past but all these failed, not until this operation in Pavia where he was monitored to be in the place for almost three days prior the actual serving of the warrant," he said.
Before being head of the Regional Taxation Implementing Group, Bocala, according to the PRO6, was also secretary and deputy secretary of the Southern Front Committee of the Panay Regional Party Committee.
Miranda said successful operations against wanted high-ranking CPP-NPA members are a collaborative effort of the Regional Task Force to End Local Communist Armed Conflict spearheaded by the police and the Armed Forces of the Philippines.
He also appealed to active CPP-NPA members to surrender to the government and lead normal lives.
The CPP-NPA, which has been waging a five-decade armed struggle against the government, is listed as a terrorist organization by the United States, the European Union, the United Kingdom, Australia, Canada, New Zealand, and the Philippines. (PNA)