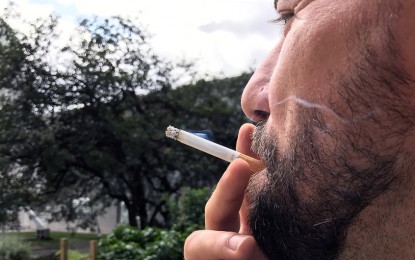 MANILA – Medical associations decried as fake news claims that e-cigarettes and vapes are healthier alternatives to regular cigarettes.
Dr. Michael Caampued of the Philippine Society of Public Health Physicians, in a news release on Monday, said it's dangerous to brand the novel products as helpful to those who want to stop cigarette smoking while there are still no high-quality evidence to back the claim.
"E-cigarettes and vapes should not immediately be viewed as healthier alternatives to cigarettes," he said.
Dr. Corry Avanceña of the Philippine Pediatric Society said the cigarette alternatives emit aerosols containing chemicals that harm the lungs of the users and even of those around them.
She said there have been cases of e-cigarette or vaping product use-associated lung injury (EVALI) in other countries while the Philippines recorded its first case in 2019.
"The best way to quit smoking is through a mix of safe and doctor-recommended methods, like nicotine replacement therapy, counseling, and family support," Avanceña advised. "You shouldn't replace an addiction with another addiction."
Dangerous
The medical associations also expressed their concerns against bills in Congress that seemingly seek to regulate the sale, promotion and distribution of vapes and e-cigarettes.
"In reality, the proposed measure in Congress on vapes and e-cigarettes weakens our policy milestone in tobacco control set by the sin tax law," Caampued said.
House Bill 9007, or the Non-Combustible Nicotine Delivery Systems Act, was recently approved on final reading in the House of Representatives. A similar measure will be deliberated in the Senate.
The bill seeks to regulate the manufacture, importation, sale, distribution, use, advertisement, promotion and sponsorship of electronic nicotine and non-nicotine delivery systems (ENNDS), and heated tobacco products (HTPs).
Among the key provisions are setting the minimum allowable age for the purchase, sale, and use of ENNDS or HTPs to 18 years old and allowing the sale or distribution of ENNDS or HTPs through the Internet subject to safeguards also for those aged 18 and above.
"If we are to regulate a product that is this dynamic, we should not weaken regulation, but rather encourage continuous review of evidence and afford the FDA (Food and Drug Administration) stronger regulatory roles," Caampued said. "We should not introduce policies that will weaken existing regulations on the sale, promotion, distribution, and use of vapes and e-cigarettes."
No Tobacco Day
Meanwhile, the Metropolitan Manila Development Authority (MMDA) is joining the observance of World No Tobacco Day on Monday, saying they are committed to help in raising awareness on tobacco control, highlighting the ill effects of smoking to the public.
"We must unceasingly promote a healthier environment and encourage tobacco users to quit smoking as the public deals with stress especially during this Covid-19 pandemic," MMDA Chair Benhur Abalos said in another news release.
The MMDA is working with all local government units in Metro Manila in monitoring public compliance on advertising and promotion, selling and display, and use of tobacco in public establishments, particularly near school premises.
"We really have to work hand-in-hand. Hence, we encourage all the Metro Manila mayors to strictly enforce their respective ordinances prohibiting smoking in public places," he added.
Smoking is prohibited in schools, playgrounds, health facilities, stairwells, public utility vehicles, transportation terminals, food preparation areas, among others.
Dr. Loida Alzona, Director of the MMDA Health and Environmental Protection Office, urged all smokers to permanently quit tobacco consumption as it contributes to serious health problems.
"There is a need to protect our present and future generations from the devastating consequences of tobacco use. Let me also remind the public that second-hand smoke is as dangerous as smoking," she stressed.
To further promote smoke-free public transportation terminals, "No Smoking" signages will be posted in all Edsa Busway stations in coordination with the Department of Transportation.
World No Tobacco Day, a global campaign initiated by the World Health Organization, is celebrated annually every 31st of May. (PR)