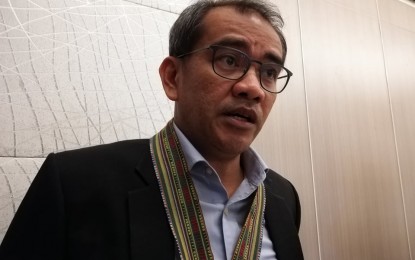 MANILA – Philippine Council for Industry, Energy and Emerging Technology Research and Development (PCIEERD) executive director Enrico Paringit on Monday said the partnership between the private and public sectors is the key to the success of ISDApp, a community-based application (app) that provides weather information to fisherfolk without the need for a smartphone or an internet connection.
"Partnerships will help the developed apps gain traction. The private sector can help in the development, maintenance, and updating of the app," Paringit told the Philippine News Agency.
Public institutions, on the other hand, can vet the information to ensure correctness, he added.
Last week, Globe Telecom partnered with the National Fisheries Research and Development Institute (NFRDI) and the Bureau of Fisheries and Aquatic Resources (BFAR), for the launch of ISDApp in Dingalan, Aurora.
About 300 fisherfolk are set to benefit from the launch.
ISDApp developer, iNON, has started training the fisherfolk from barangays Aplaya, Butas na Bato, and Paltic, on how to use the app.
The iNON team will also work with the local government unit to ensure that all targeted fishermen could take part in this initiative.
Localized weather data is being converted to simplified weather forecasts and sent daily via SMS to the registered mobile number of fisherfolk. This helps guide the fishermen before they venture to the sea. Further, the app allows them to send an SOS message to their community and include a registered emergency contact number.
"For safety (when venturing) out the sea, updated and accurate weather condition is important. Also, weather (forecast) is a key determinant for fishing productivity," Paringit remarked.
He said that PCIEERED has sponsored and was among the judges during the 2018 NASA Space Apps Challenge, where iNON won the Best Galactic Impact category for the development of the ISDApp.
Paringit said he encourages others to develop the same kind of weather app.
"Fisherfolk belongs to the poorest working class. Any technology that could help this sector to be more productive, safe and efficient would be a big help in changing the economic conditions of this important segment," he said.
For their part, Globe's chief Sustainability officer Yoly Crisanto said technology can be a great partner to keep the fisherfolk safe.
"We are aware that in some communities, access to information and resources may be limited. This is why ISDApp was made as simple as possible so that alerts can reach those people who continue to use low-end phones," she said.
The company will provide load support to the 300 fisherfolk in Dingalan. The NFRDI, on the other hand, will provide mobile phones to 100 of them.
Earlier in January, Globe has also partnered with NFRDI and BFAR for the launch of ISDApp in Sariaya, Quezon, wherein 93 fishermen were provided with mobile phones. (PNA)