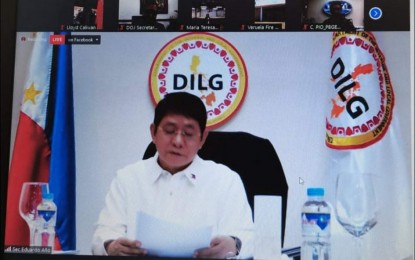 MANILA – The Department of the Interior and Local Government (DILG), Department of Justice (DOJ), and the Philippine National Police (PNP) on Tuesday issued a joint memorandum circular (JMC) on dealing with violations of health and safety ordinances, and quarantine-related violations during the coronavirus disease 2019 (Covid-19) pandemic.
Interior Secretary Eduardo Año, Justice Secretary Menardo Guevara, and PNP chief Gen. Guillermo Eleazar signed the JMC in a virtual ceremony.
"Kahit isang tao na malakas ay napapagod din kaya nandito tayo para sa ating kababayan at para maipatupad ang ating batas. At kung maipapatupad ang batas na ito sigurado naman na made-develop ang instinct at disiplina ng ating mga kababayan na hindi kailangan ng (Even a healthy person gets tired. This is why we are here for the people and to enforce our laws. And if the laws can be implemented it will surely develop the instinct and discipline of the people even without) presence of law enforcement for them to be disciplined,'' Año said.
Under the guidelines, Año said the DILG will require local government units (LGUs) and the PNP to establish holding areas where the violators will be brought in.
He said the minimum health and safety standard violators will not be placed with detainees in jails to avoid overcrowding and transmission of Covid-19.
He added that local ordinances will determine whether a violator will be put behind bars.
Aside from the guidelines issued by the Inter-Agency Task Force for the Management of Emerging Infectious Diseases (IATF-EID), Año added that Republic Act 11332 or the Mandatory Reporting of Notifiable Diseases and Health Events of Public Concern Act and the Local Government Code can be used to determine penalties or sanctions against the violators.
While quarantine protocols have been in place since last year, he cited the need to enhance the enforcement of these rules due to a surge in Covid-19 cases in recent months caused by "super spreader events''.
"So what we did actually is just to tie everything up and then how we can actually enforce stricter controls,'' he noted.
Año said erring officials are accountable if they violate the said health and safety protocols or if they were negligent in prosecuting the violators or they failed to enforce the law.
"And then the responsibility of the barangay captains and the barangay officials, isinama din natin dito (guidelines) (we also included that here),'' the DILG chief said.
He said the PNP should coordinate with the LGUs and must be aware of the ordinance that would legalize any arrests or apprehensions of the violators.
"Habang hinihintay natin yun (Covid-19) vaccines ay maipatupad pa rin yung paghihigpit sa pagtupad ng batas at ordinances (While waiting for the arrival of the vaccines, we want to strictly enforce the laws and ordinances),'' Año said.
He pointed out that barangay officials will play a far more active role in the implementation of the health and safety protocols
He added that violators exhibiting Covid-19 symptoms will be tested and isolated while quarantine violators who are asymptomatic will be closely monitored.
Meanwhile, Eleazar assured the PNP's full support of the measures.
"These things that we do are all coming from the instructions of our IATF and we have seen that the provisions of this joint memorandum circular are basically the guidelines given to us by the IATF and the DILG. So we are very thankful that we have formalized this now and the PNP is assuring its commitment to this," he said.
Faster fiscals' action on violations
Meanwhile, Guevarra said he had instructed the prosecutors to immediately process and issue resolutions on the inquest investigations of law enforcement agents, to make sure that the violators do not stay too long in jail.
The inquest prosecutors have to determine if the arrest of these violators is valid and legal since these are warrantless arrests.
Once determined that these arrests were not valid, the complaint should be dismissed and the persons concerned should be released for further preliminary investigation.
But if the violators were caught in the act, the inquest prosecutors should immediately make a resolution whether there was probable cause and file the Information.
"In many occasions, if it involves several people and it would be an inconvenience for everyone concerned, if they would be detained while waiting for the complaint to be resolved, what they do is (these people are) released for further investigation (RFI). The complaint is not dismissed. They are merely being released for preliminary investigation. That is one solution," Guevarra said.
He, however, said if there is probable cause and they intend to file information against a violator before a court, it is up to the prosecutor's discretion if he would recommend bail on recognizance for a violator.
Under Republic Act 10389 or the Recognizance Act of 2012, a person who availed of bail on recognizance is turned over to a responsible member of the community who would make sure that he/she will appear in court when called.
Guevarra said violations in the JMC, such as not wearing proper face masks, are not considered serious offenses but there is a need to come up with these internal guidelines pertaining to minimum health standards, quarantine regulations, and curfew because of the prevailing pandemic.
Based on the latest data, the PNP has apprehended 125,587 individuals from May 17 to 30 for violating minimum public health standards amid the Covid-19 pandemic.
Out of this number, 95,357 were apprehended for not wearing face shields -- 3,657 of whom were charged while the rest were either given a warning, fined, or were ordered to render community service.
A total of 1,697 individuals were accosted for mass gatherings while another 28,533 were apprehended for violating physical distancing rules. (PNA)