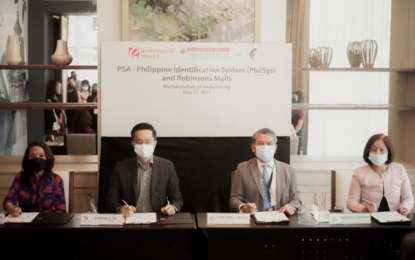 MANILA – A mall-based registration for the Philippine Identification System (PhilSys) or national ID will be open to the public.
The Philippine Statistics Authority (PSA) has partnered with the Robinsons Corporation allowing for the second phase PhilSys registration process in the malls.
Following the signing of a memorandum of understanding (MOU) on May 17, the government will open several PhilSys registration centers in Robinsons mall branches nationwide.
This partnership would be part of the Robinsons' Lingkod Pinoy Center Program—the giant mall's public service flagship that started in 2011.
"We want to assure you that whatever support you need from the malls, we will be there to make sure that this herculean task of registering all Filipinos will be done very successfully," said Arlene Magtibay, Robinsons Malls senior vice president and general manager.
Under the Lingkod Pinoy Center Program, several branches of Robinsons malls house various government agencies and local government units (LGUs) that offer one-stop-shop government transactions.
Magtibay said the partnership is an opportunity for the government to provide a "convenient, comfortable, and safe environment" when doing public transactions.
"We are always ready to lend a helping hand to the government agencies that we feel will benefit from having their services in the malls because [as we know] people like going to the malls. They know where it's located, it's very accessible, whether by public or private transportation," she said. "And so, whatever we can do to help them do their jobs better and bring their services closer to the people, that's what the Lingkod Pinoy is all about."
Meanwhile, PSA Undersecretary Dennis Mapa said the newly forged partnership will help the government expand the registration of more Filipinos to PhilSys.
"This is a big opportunity for our kababayans to have a valid proof of identity that they can use in their daily lives and later, to enroll them in banking services," Mapa said.
So far, only select Robinsons branches have open PhilSys registration centers.
Mapa also acknowledged that public-private partnership which pushes through the endeavor of inclusivity among Filipinos.
"We appreciate the efforts of Robinsons to partner with us. We want our registration to be a very good experience for our registrants, and malls are a convenient and safe place for it," he said.
The government targets to register around 50 to 70 million Filipinos within the year.
Mapa said they are targeting to sign up five million Filipinos every month.
To achieve this target, the registration centers would be open to the public from Mondays to Sundays.
The public is assured of strict implementation of health protocols within registration centers.
Registration for PhilSys is free of charge.
Signed into law by President Rodrigo Duterte in August 2018, Republic Act 11055, or the Philippine Identification System Act, aims to establish a single national ID for all Filipinos and resident aliens.
The national ID shall be a valid proof of identity that shall be a means of simplifying public and private transactions, enrolment in schools, and the opening of bank accounts.
It will also boost efficiency, especially in dealing with government services where people will only need to present the PhilID during transactions. (PNA)