MANILA – The Philippine Consulate General in New York is partnering with health authorities in New York City to vaccinate more Filipinos against the coronavirus disease 2019 (Covid-19), Consul General Elmer Cato said Wednesday.
The vaccination campaign is scheduled on June 11 to 13 and will be undertaken in partnership with the Office of Ambulatory Care and Population Health of New York City Health + Hospitals (NYC H+H).
In a statement, Cato also assured undocumented Filipinos that there is "no need for them to worry about their immigration status" as he urged all members of the Filipino community to take advantage of the free vaccination.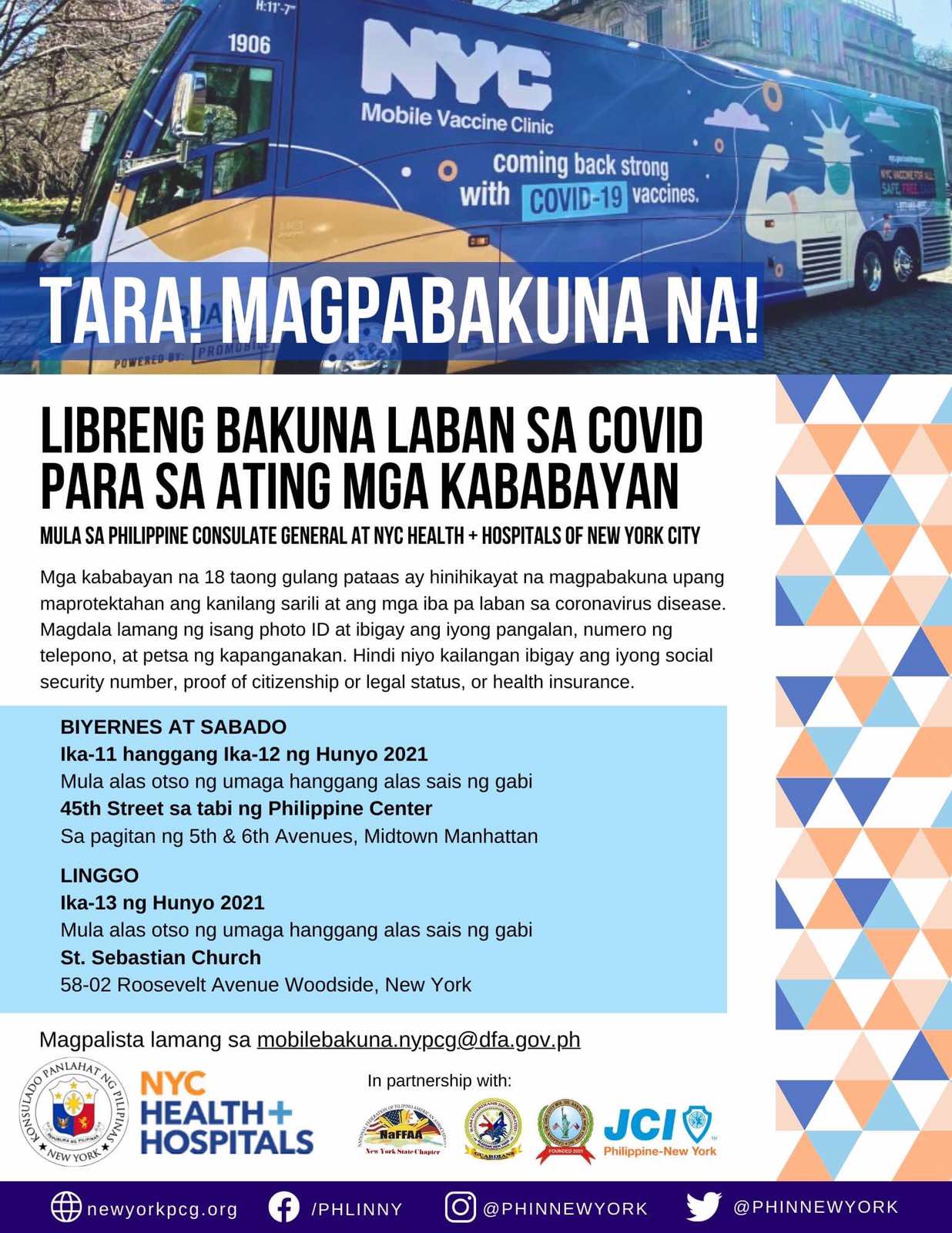 "We are doing this to help make sure that we do not get to grieve the way we did last year when we lost more than 150 members of the Filipino Community in New York and surrounding areas to Covid-19," Cato said.
On June 11 and 12, a mobile clinic from NYC H+H will be at the corner of 45th Street beside the Philippine Center on Fifth Avenue from 8 a.m. to 6 p.m. to administer the single-dose Johnson & Johnson's Janssen vaccine to members of the Filipino community.
The next day, June 13, the mobile clinic will move to the Saint Sebastian Church on Roosevelt Avenue in Woodside, New York, to inoculate more Filipinos from 8 a.m. until 6 p.m.
"Our kababayan will only be asked to present their passport or any other form of identification, their contact number and date of birth. They will not be asked to give their social security number, proof of citizenship or legal status, or health insurance," he said.
The initiative, which is part of the consulate's commemoration of the 123rd anniversary of Philippine independence, is being supported by the New York chapters of the National Federation of Filipino-American Associations, the Philippine Nurses Association, and the Junior Chamber International, and the RAM Guardians-Alakdan New York, the Cagayan De Oro-Misamis Oriental Association, and the Saint Sebastian Church. (PNA)