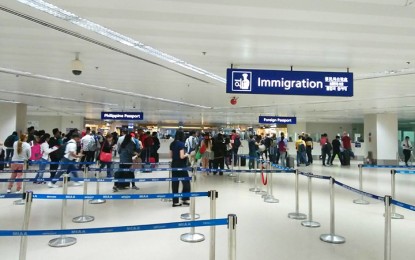 MANILA – The Bureau of Immigration (BI) is supporting the proposal to allow fully vaccinated foreign nationals to enter the country as part of efforts to revive the country's ailing tourism industry and reopen the country's borders.
In a statement, Commissioner Jaime Morente said they agree with the setting up of a "green lane" for vaccinated aliens in the different ports to pave the way for the reopening of tourist destinations to leisure travelers if the Inter-Agency Task Force for the Management of Emerging Infectious Diseases (IATF) deems it viable.
"If approved by the IATF, we in the Bureau support this initiative by the Department of Tourism (DOT) as it will not only resuscitate our tourism industry. It will also generate employment for millions of Filipinos who lost their jobs due to the pandemic," he said.
He added that aside from the tourism and travel industry, opening the country's borders to international leisure travelers will also hasten the revival of the commercial aviation and shipping industries whose businesses suffered a beating from the pandemic.
"Once these 'green lanes' are set up, operations in our international airports and seaports hopefully will begin to return to normal," Morente said.
Earlier, Tourism Secretary Bernadette Romulo Puyat asked the IATF to approve the setting of the "green lanes" to facilitate the re-employment of tourism workers and revive the tourism industry under safe conditions.
She said the scheme would allow vaccinated foreign travelers to visit the country for leisure as quarantine rules are being relaxed while the government undertakes a massive vaccination rollout for its citizens nationwide.
The DOT chief added that the Philippines should keep pace with its neighbors and the rest of the world in slowly reopening the country's tourist destinations.
The BI is part of the small working group, headed by the DOT and Department of Foreign Affairs, which was formed to study the feasibility of implementing the "green lane" scheme and formulate related health protocols.
Other members of the group are the Bureau of Quarantine, Department of Information and Communications Technology, Department of Transportation, Office of the Presidential Adviser on the Peace Process, Overseas Workers Welfare Administration, and Department of Trade and Industry. (PNA)