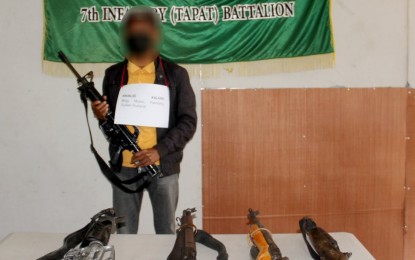 COTABATO CITY – A subleader of the Islamic State-linked Dawlah Islamiya (DI) operating in the marshlands of Central Mindanao has yielded to authorities in Sultan Kudarat province to be able to return to a normal life with his family.
In a statement Thursday, Col. Rommel Valencia, the Army's 7th Infantry Battalion (7IB) commander, identified the surrenderer as Khalid Kalaing, a subleader of the DI-Maguid group in the region.
"The surrenderer feared for his life because of continuous focused military operations against the DI and the equally lawless Bangsamoro Islamic Freedom Fighters (BIFF) in the borders of Maguindanao, North Cotabato, and Sultan Kudarat provinces," Valencia said.
During his surrender on Wednesday afternoon at the old capitol building in Isulan town of the province, Kalaing also yielded five firearms: an M653, M16, M1 Carbine, M14, and a .30-caliber Garand rifles, and ammunition.
"I have been sleepless for days lately thinking about my family and the normal life I once enjoyed. I feared that I might be a casualty of a lost cause," Kalaing said in the vernacular via a mobile phone interview by reporters here on Thursday.
"Suddenly, I just wanted to become a farmer and be with my family again," Kalaing, who hails from Palimbang town of the same province, said.
He then urged DI comrades still in the marshlands to surrender and avail of the government programs for rebel surrenderers.
"This chance is for me and you. Let us start a new life together," Kalaing said in addressing his former comrades.
Valencia said Kalaing initially received financial aid and food packages from the Sultan Kudarat provincial government.
He said at least 200 DI and BIFF militants have surrendered before local officials and various military units under the Army's 6th Infantry Division since last year.
In April this year, a total of 177 former DI and BIFF extremists have received livelihood and farm assistance through the Anak na may Ginintuang Layunin, upang Hintuan Ang Violent Extremism Ngayon or AGILA-HAVEN program of the Maguindanao provincial government. (PNA)