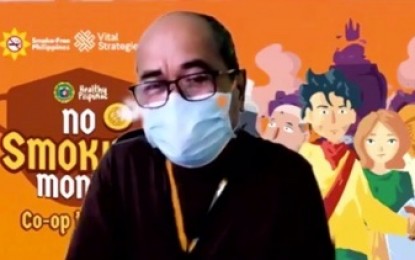 CEBU CITY – A Department of Health (DOH)-Region 7 official on Thursday urged local government units (LGU) to ramp up the campaign against smoking amid the coronavirus disease 2019 (Covid-19) pandemic.
In a presser in time for the National No Smoking Month this June, Dr. Dino Caing, DOH-7 medical officer, said smokers who contract Covid-19 are likely to get severe symptoms or die because of pneumonia.
Caing said the campaign of the government against smoking may have stalled as medical front-liners are busy combating Covid-19, but the health agency has not stopped promoting the no-smoking policy.
"We should not leave it behind. It's a proven fact that smokers, those who have pulmonary disease because of smoking are more prone to go to severe form of Covid-19 compared to nonsmokers," he said, stressing that smokers would likely get damaged lungs.
The pandemic has caused a setback to the government's nationwide effort to convince Filipinos to quit smoking as many training, seminars and programs did not materialize while medical front-liners and health workers in LGUs are focused on testing, contact-tracing and isolation of coronavirus patients, he said.
However, the DOH continues to do its part in disseminating information on the ill effects of nicotine through conferences via a virtual platform, installation of campaign materials such as tarpaulins in strategic places as well as promoting the Civil Service Commission's (CSC) policy prohibiting smoking in government premises.
CSC Memorandum Circular 17, series of 2009 or the Smoking Prohibition Based on 100 percent Smoke-Free Policy prohibits smoking in or on the premises, buildings, and grounds of government agencies providing health, education and/or social welfare and development services such as hospitals, health centers, schools, and universities, colleges among others.
"So when you campaign for Covid-19 in your locality, stress that point that if you smoke and if you get Covid-19, you are most likely to die or you go severe which is now very expensive," Caing said.
He said there is a correlation between Covid-19 and smoking, citing regional statistics showing that before the pandemic, cerebrovascular disease became the number one cause of death that may have been overtaken by pneumonia.
"I think in last year's data just assume that now if you go to data on the number of deaths exposed to pneumonia, it would have increased because of Covid-19. So when it comes to death, of course, related to Covid-19 that if you smoke, it contributes more," he said.
The health official noted that most of the Covid-19 patients in Central Visayas are male. (PNA)