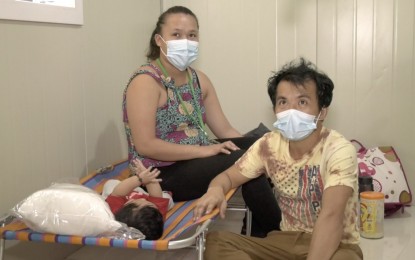 MANILA – Metro Manila has often been compared to a jungle.
Only the fittest survive. City life is not for the weak and faint-hearted.
Joel Cabalquinto, 34, and her 19-year-old partner, Rhea Aldamia, felt they are not cut out for the "jungle."
Hence, the decision to return to the province and rebuild their lives with their six-month-old child, thanks to the "Balik Probinsya, Bagong Pag-asa" (BP2) program.
"Nag-apply sana kami ng trabaho pero ang dami din kailangan. Swab test, eh, ang mahal ng swab test ngayon. Tapos medical, iba pang requirements. Mahirap mag-apply ngayon kasi konti lang ang may hiring (We applied for work but there are so many requirements. Swab test but it's expensive. Then medical and other requirements. It is hard to find work nowadays because there are only a few companies hiring)," Joel told the Philippine News Agency in an interview at the BP2 depot in Quezon City on Thursday.
Joel's family of three is now in Villaba, Leyte, where they will temporarily live with his sister.
They are part of the 13 families, composed of 49 persons, who flew home on Friday. All tested negative for Covid-19.
"Nung nagsimula ang taon, gusto na namin umuwi sa probinsya pero wala rin masakyan. May nagsabi sa amin na mag-apply sa Balik Probinsya (At the start of the year, we already wanted to go back to the province but there were no trips until somebody told us to apply for Balik Probinsya)," Joel said.
Before the Covid-19 pandemic, Joel worked as a car painter. He took on part-time jobs when the lockdowns started. Once, he sold fish at the Commonwealth Market in Quezon City.
"Minsan may isda, minsan wala. Tapos ang mga tao nagrereklamo pag nataas yung presyo kasi marami din ang wala talagang trabaho, so medyo humihina ang bentahan (Sometimes there are fish, other times, none. Then customers complain when prices increase. People lost their jobs so sales also went down)," he narrated.
New life
Some of his friends discouraged him from leaving, saying life is hard in the province.
Joel reasoned it is no different in Manila.
"At least in the province, you can relax. The air is fresh, which is good for the baby," he said in Filipino.
The income may be lower in the province but there, they do not have to spend for house rental.
In Leyte, the couple will maximize the assistance and financial capital entrusted by the government.
He wants to raise hogs while Rhea, who hails from Zamboanga, will open a sari-sari (retail) store.
A simple life is enough for them, even if he will not earn what he used to receive in Manila.
"Dito laki sahod, laki naman ng bayaran, mahal bilihin. Sa probinsya maliit ang sahod pero makatipid ka naman sa bilihin, kasi may mga gulay doon. Dito bili lahat, gulay, mga rekados, binibili. Eh doon pwede ka magtanim (Here the salary is higher but the expenses are also high. In the province, the salary may be less but you will also spend less. You can plant your own vegetables, unlike here where you have to buy everything)," Joel said.
He said they will stay in the province for good.
"Madami naman hanapbuhay dun. Pwede mag-kopra, mag-ano ng saging, pwede rin magsaka. Depende naman sa probinsya. Kung masipag ka kahit saan ka magpunta (There are so many things to do there, you can go into the copra business, banana, you can be a farmer. If you are hardworking, it doesn't matter where you go)," he said. (PNA)