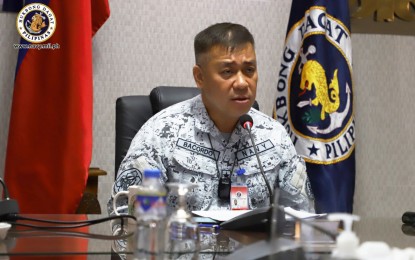 MANILA – The Philippines would have signed the contract for the acquisition of its first-ever diesel-electric submarines if not for the coronavirus disease 2019 (Covid-19) pandemic, according to outgoing Philippine Navy (PN) chief, Vice Adm. Giovanni Carlo Bacordo, on Monday.
"If not for this Covid-19, per my timeline as the Chief of the Navy, I was expecting that the signing of the contract would have been done this second semester of 2021 or at the latest first semester of 2022," Bacordo said when asked for updates on the Navy's submarine acquisition program during his online exit interview with reporters.
Bacordo is scheduled to retire on Wednesday upon reaching the mandatory retirement age of 56.
"Yung sana ang (that would have been the) timelines for this submarine acquisition project, but because of (the) government's Covid-19 response, so much of our funds have been devoted to the Covid-19 response," said Bacordo, who replaced Vice Adm. Robert Empedrad on Feb. 3 last year.
The budget for the PN's submarine acquisition program is placed at PHP70 billion. To be acquired are two submarines along with its integrated logistics support package (ILS).
"The budget for the submarine acquisition program is PHP70 billion, for two submarines and for the ILS, for the logistics support and also for some ports wherein they can accommodate the submarine, that's the package, but regarding the details as to who will be the contractor, we have not reached that part because that will be determined in the bidding," Bacordo said.
He added that prioritizing the acquisition of the submarines will greatly boost the PN's credible deterrence capability.
"Believe me kapag may submarino tayo (when we have submarines), it is (a) credible deterrence against all countries (entering) in our exclusive economic zone, going in our extended continental shelf, going in our contiguous zones, that will serve as credible deterrence already because they do not know where that submarine is," he added.
Bacordo added that countries interested in bidding in the PN's submarine acquisition program include France, South Korea, India, and Turkey.
Also, Singapore is interested to "download" some of its older submarines to the PN but there is no formal offer yet, he added.
"They (Singapore) have I think newer submarines and they want to sell their older submarines but there is no formal offer yet, only through some intermediaries," Bacordo said.
He, however, clarified that President Rodrigo R. Duterte and the PN want to acquire new submarines for its fleet.
Earlier, Bacordo said having diesel-electric submarines in its inventory will allow the Armed Forces of the Philippines (AFP) to achieve a credible defense posture aside from enhancing the PN's maritime defense capabilities.
"We have desired force mix of submarines, frigates, corvettes, OPVs (offshore patrol vessels), LDs (landing docks), FAIC-Ms (fast attack interdiction craft-missiles), MPACs (multi-purpose attack craft), AAVs (amphibious assault vehicles) etc. This is embodied in our Naval Operating Concept submitted to HHQ (higher headquarters) in 2020," he added.
Under this plan, the PN is planning to acquire six anti-air frigates, 12 anti-submarine corvettes, and three submarines along with other naval assets.
"This is the force-mix that will enable the AFP to achieve a credible defense," Bacordo said.
He also added that the acquisition and development of submarine warfare capability will better equip the Navy to fulfill its primary mandate on territorial defense, security, and stability.
"Submarines will enhance our maritime defense capability and can effectively carry out anti-access/area denial, maritime surveillance, maritime interdiction, intelligence, surveillance, and reconnaissance. The submarine is the most effective ISR (intelligence, surveillance, and reconnaissance) platform and the best killing machine in the Navy inventory," he added.
Bacordo said a submarine capability will provide deterrence against aggressors, credibility to the PN, international consideration of the Philippines, and recognition of the AFP from other armed forces.
"Submarines are undetectable and could be anywhere patrolling around the WPS (West Philippine Sea) to act firmly if necessary. Having an operational submarine at-sea will be a game-changer for the PN. Contenders will have to take into consideration the probability of facing a submarine at anytime, anywhere, without any warning, hence will affect their entire assessment of the tactical situation and their behavior," he added,
Bacordo said once acquired, these submarines will be equipped with a large number of weapons.
"It can infiltrate an enemy task force to hunt aircraft carriers and landing docks, and provide decisive superiority with a single lethal hit," he added. (PNA)