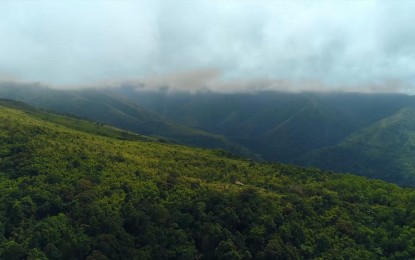 CITY OF SAN FERNANDO, Pampanga – More than 122,000 hectares of denuded forestlands and watersheds have been rehabilitated in Central Luzon through the Enhanced National Greening Program (E-NGP) of the Department of Environment and Natural Resources (DENR) regional office here since 2011.
Paquito Moreno, Jr., executive director of the DENR in Region 3, said on Monday the government's flagship reforestation program has continued to rehabilitate the region's degraded areas and has reinforced its efforts in increasing the survival rate of these plantation sites.
"In average, the survival rate of our plantation sites is around 81 percent. This rate is significantly affected by natural occurrences, such as forest fire and extreme weather changes," Moreno said in an official social media post.
He said that despite the work limitations brought by coronavirus disease 2019 (Covid-19), the DENR established another 300-hectare bamboo plantation in Bulacan last year, as an additional forest cover in the Angat-Ipo-Maasim River Watershed.
Moreno said this is in addition to the more than 14,000-hectare bamboo plantations established since 2011 under NGP.
He said partnership and collaboration with private firms were also strengthened to develop and achieve a higher survival rate of these plantations, where 62 unfunded NGP areas have already been adopted by different organizations.
Last February, the DENR Region 3 (Central Luzon) has partnered with the Star 8 Green Technology Corporation (GTC) to boost the development and protection of established plantations in Bataan under the NGP.
Star 8 GTC has adopted an estimated 350 hectares of NGP-established plantations inside the multiple-use zone of the Bataan Natural Park in Morong town under the "New Tomorrow" program to strengthen its protection and enhance the development of agroforestry.
Likewise, Moreno said the DENR has partnered with peoples' organizations, the Philippine National Police and Philippine Army in the region to monitor the development of plantations and facilitate quick response and reporting of illegal forest activities in NGP areas.
Apart from its ecological value, the NGP, since its implementation i n 2011, has generated 228,592 jobs in the region from its plantation maintenance and protection activities.
NGP, which was launched in 2011, aims to reforest 1.5 million hectares of denuded forestlands and watersheds in the country, reduce poverty, provide food security, conserve biodiversity and address global warming and climate change.
The program was expanded until 2028 under Executive Order No. 193 to reforest the remaining degraded forestlands, and remains one of the banner environmental advocacies of the government. (PNA)