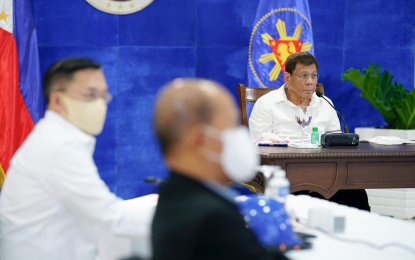 MANILA – Unless communist New People's Army (NPA) rebels stop attacking government forces and civilians, no peace talks can ever succeed, President Rodrigo Duterte said on Monday.
Duterte made this statement as he condemned the ambush of a unit of the 85th Infantry Battalion by NPA rebels in Buenavista town in Quezon province on Saturday.
He said he could not understand why NPA, armed wing of the Communist Party of the Philippines (CPP), would attack soldiers who were simply in the town to distribute food aid, and other needs in the middle of a pandemic.
"They only have the condemnation of the people, especially from me. Kaya hindi talaga tayo magkaintindihan kailanman (That's why we will never really understand each other)," he said in a pre-recorded public address.
Duterte said peace talks could not push through unless communist rebels lay down their arms.
"No peace talks can ever succeed under me or under any other president if you do not stop attacking government forces and even civilian leaders," he said.
He lambasted NPA rebels for being "insensitive of the plight of the people", especially those severely affected by the pandemic.
Meanwhile, he also thanked government forces for their service to the Filipino people and vowed justice for the family of slain government militiaman Romar Gono.
"I'd like the soldiers to know and the families of the fallen heroes that the nation is very grateful to you and we would know also how to reciprocate their bravery. Justice will be served sa kanila (to them) in the end," he said.
Reports showed that the soldiers and Citizens Armed Forces Geographical Unit (CAFGU) personnel were ambushed by NPA rebels in the village of Batabat Sur around 11:40 a.m. June 5, after coming from a community gift-giving activity.
The government forces were heading back to the police station at the town center for debriefing and lunch break when they were attacked.
Peace talks between the national government and the CPP's political wing, the National Democratic Front (NDF), have been intermittent since 1986.
Duterte held a series of peace negotiations with the NDF, but was forced to terminate the talks following the relentless NPA attacks against government troops and civilians.
Through Proclamation 360 signed on Nov. 23, 2017, Duterte formally ended the peace dialogue with the NDF.
The termination of peace talks was followed by the Dec. 5, 2017 signing of Proclamation 374 that declared the CPP-NPA as a terror organization.
The CPP-NPA is listed as a terrorist organization by the United States, European Union, the United Kingdom, Australia, Canada, New Zealand, and the Philippines. (PNA)