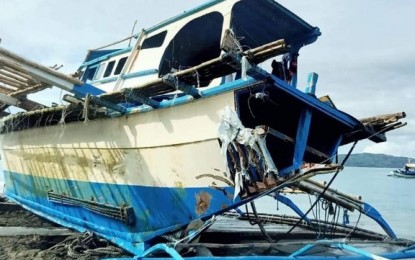 MANILA – After two years, the Philippines will receive a formal counterproposal for compensation from the owners of the Chinese trawler which rammed wooden-hulled fishing boat F/B Gem-Ver1 in the early morning of June 9, 2019.
Department of Justice (DOJ) Undersecretary Adrian Sugay said on Tuesday talks with Chinese officials did not specify a deadline when to complete the negotiations.
"What was agreed upon was a formal counterproposal from the Chinese side. Any further meetings will be dependent on the acceptability of the counterproposal," he told reporters.
Sugay said the claim of the owner and crew members of F/B Gem-Ver1 is less than PHP19 million and that among the issues to be taken up in the negotiations is whether or not both parties can still sue each other after the payment of compensation.
"As for civil liability, yes. This is the whole point of the negotiations. And more importantly, ensuring that the owner and crew members of the F/B Gem-Ver1 are fairly and satisfactorily compensated," he said.
The Department of Foreign Affairs recently said the DOJ will lead talks on the incident which happened near the Recto Bank where 22 Filipino fishermen were abandoned in open seas after their vessel was rammed by steel-hulled Yuemaobinyu 42212.
Vietnamese fishermen rescued them and turned them over to the Philippine Navy ship BRP Ramon Alcaraz.
The boat left San Jose, Occidental Mindoro on May 29, or 11 days before the collision.
The Chinese vessel may have been sent to the disputed waters on enforcement duty, according to a study of the Asia Maritime Transparency Initiative in Washington, but the Chinese maintained it was a mere accident involving two fishing boats. (PNA)